Landmark three-year ban for shot-putter Mark Edwards
Last updated on .From the section Athletics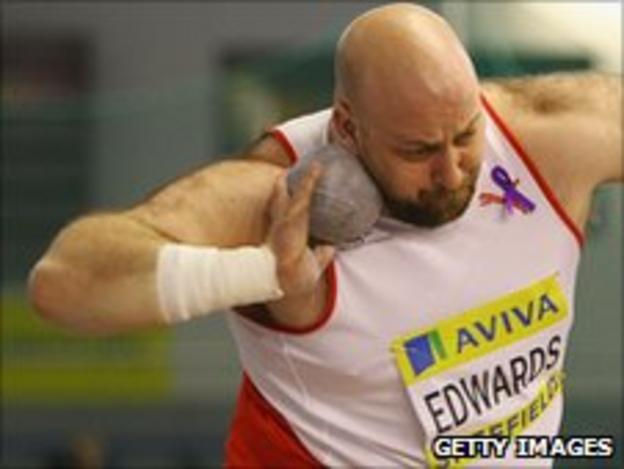 Shot-putter Mark Edwards has been handed a three-year ban after testing positive for two prohibited substances.
The 36-year-old was given more than the standard two-year ban due to "aggravating circumstances."
The former British number two tested positive for both testosterone and Clostebol just before last year's Commonwealth Games.
It is the first time UK Anti-Doping (UKAD) has successfully argued for an increase to the two-year sanction.
Edwards argued he should not have been tested as he had pulled out of the Commonwealth Games on medical grounds the day before the test and said he intended to retire.
But he was told by the tribunal panel that the presence of more than one banned substance constituted aggravating circumstances.
The tribunal added: "The athlete is a senior athlete and a role model in the throwing community.
"He runs a sports therapy business and has a history of working with disabled athletes."
Edwards had told the tribunal he had no idea how the substances came to be in his urine sample, and made claims about the testing procedure and suggested the sample may have been tampered with en route to the laboratory.
UKAD chief executive Andy Parkinson said: "The three-year suspension should send a strong message to anyone looking to dope in the UK and I hope gives clean athletes the confidence that we will aggressively pursue those who we think are cheating.
"We will continue to work tirelessly to protect the rights of clean athletes in the run-up to London 2012 and beyond."