Carolina Kluft to retire after London 2012 Olympics
Last updated on .From the section Athletics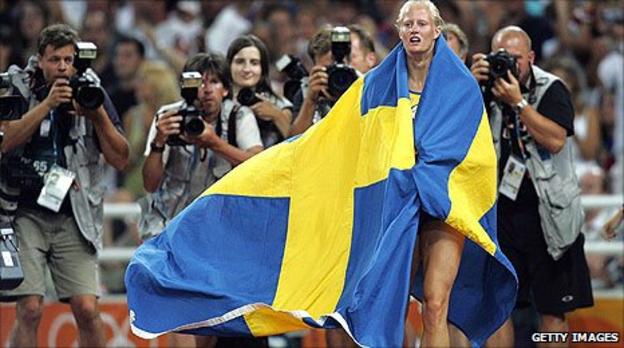 Three-time world heptathlon champion Carolina Kluft will quit athletics after next year's London Olympics.
The Swedish 28-year-old, Olympic champion in 2004, now competes in the long jump having switched events in 2008.
"I've been competing in athletics for a long time even if I'm not so old. There are so many other things I want to do," Kluft told Swedish radio.
"I'm becoming saturated with sport and want to do something different."
Kluft made her international breakthrough with gold at the European championships in Munich in 2002, before securing the Olympic title in Athens two years later.
She is one of only three athletes to exceed 7,000 points.
"Some people start to think of retirement when the motivation goes but I've always felt that I wanted to have a final destination, that now I'll do something different in life. I think I'm done with athletics," she told Radiosporten.
"I think I'll still be able to motivate people, but maybe in other fields and not in sport. I just don't find training fun at all. Thinking about what you must do to be as good as possible doesn't interest me."
Kluft triumphed in the heptathlon at the World Championships in 2003, 2005 and 2007 and tasted Olympic success in 2004 but now focuses on the long jump.
Many people were shocked when she walked away from heptathlon, arguably at the peak of her powers, just a few months before the Beijing Olympics, but Kluft insisted she switched because she no longer enjoyed it.
After missing the 2009 World Championships in Berlin through injury, she will have a chance to make amends at the worlds in Daegu, South Korea, this August before her preparations for the London Olympics.
According to Radiosporten, Kluft is also keen on securing a place in the Swedish women's 4x100m relay team.
Kluft's 2006 European championship-best mark of 6,740 was surpassed by Jessica Ennis last year when the Briton beat rival Nataliya Dobrynska to take gold in Barcelona.