Ohuruogu says she has nothing to prove after injury
Last updated on .From the section Athletics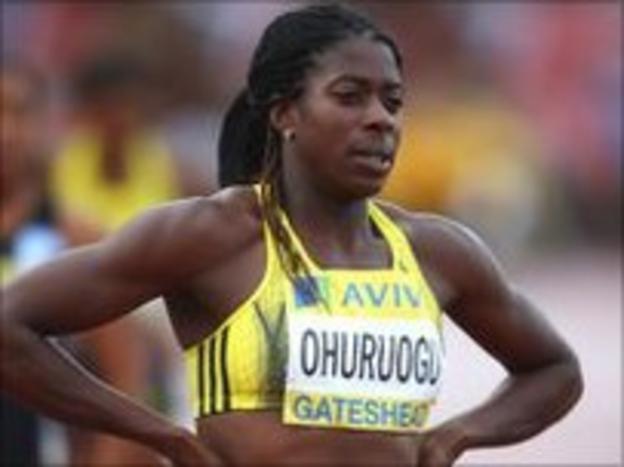 Olympic 400 metres champion Christine Ohuruogu says she has nothing to prove despite a 2010 season ruined by injury.
The Londoner will race over 200m in Sunday's Great City Games in Manchester.
The 26-year-old missed last year's European Championships and Commonwealth Games with a quad muscle tear and admits she is still feeling its effects.
"I'm not completely over it, it gets tight at times," she said.
Ohuruogu, who spent the winter training in Los Angeles and Jamaica, added: "Towards the end of the trip it got really, really tight so I had to pull out of the Jamaica International Invitational in Kingston last weekend.
"We've got to just make sure we don't over-do the work on it, but we're just pushing on regardless."
Ohuruogu will take on triple world 200m champion Allyson Felix on a specially-constructed straight track on Deansgate.
Among the others competing at the meeting are American Tyson Gay, who will race over 150m, and world and European heptathlon champion Jessica Ennis, who makes her opening appearance of the season when she races in the 150m and 100m hurdles.
Felix has made the most of injuries to Ohuruogu and world champion Sanya Richards-Ross to also establish herself as the world's leading 400m runner.
That honour used to belong to Ohuruogu as she claimed Commonwealth, World Championship and then Olympic gold medals in successive years from 2006 before injury intervened to bring a halt to her victorious run.
She lost her world title to Richards-Ross in Berlin in 2009 after an injury-disrupted build-up to the championships, while Amantle Montsho of Botswana took her Commonwealth crown last October.
Her personal best of 49.61 seconds now dates back to 2007 and she has not broken the 50-second barrier since 2008, but her belief in her ability to hit those heights again remains strong ahead of August's World Championships in South Korea.
"I have an Olympic gold medal, what do I have to prove to anybody?" Ohuruogu added.
"I've done the work, I've won three consecutive gold medals in three years, so I don't really need to prove anything to myself or anybody. This is just trying to get back to where I was before.
"And if I didn't think I'd get back there, I would have just retired.
"The rest of the world had an easy year so it's almost like, if everyone's going to have a softer year then I should be grateful - not that I've got an injury but for the time that I had off to let my body recover properly."