Andy Turner targets Manchester Great City Games success
Last updated on .From the section Athletics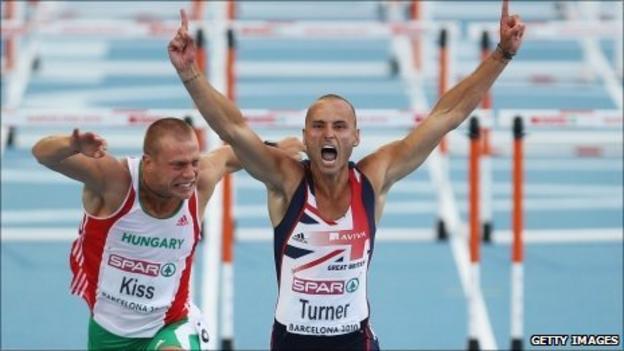 European and Commonwealth 110m hurdles champion Andy Turner hopes Sunday's Great City Games in Manchester can propel him on to another golden season.
The 30-year-old won the 110m hurdles and 200m hurdles in Manchester last year and went on to lift the European and Commonwealth titles.
Nottingham-born Turner said: "I've competed on this track before and enjoy running so close to the crowd.
"I had a great day there last year. The line ups are even stronger this year."
In 2010, Britain's top hurdler was in fine form at the Great City Games as he beat the United States' Olympic silver medallist Terrence Trammell in the 110m hurdles before winning the 200m in the world's fastest time of 22.30 ahead of world champion Ryan Brathwaite from Barbados.
The Sale Harriers runner will face Trammell and Brathwaite again on Sunday.
He has already started this season brightly, missing his personal best by 0.01 seconds in Jamaica on Saturday, where as well as beating Trammell and Brathwaite, he also finished ahead of Jamaica's Dwight Thomas.
Turner, who will be aiming to impress at the World Championships in August this year, added: "I am looking forward to good things in 2011.
"I had a great start to my season in the Kingston International in Jamaica last weekend, running 13.28 seconds to win over the world champion Ryan Brathwaite and former world indoor champion Terrence Trammell."
A dozen Olympic medallists will take part in the Manchester event, with former 100m and 200m world champion Tyson Gay aiming to add the 150m title to his 200m victory from 2010.
This year, the 200m will showcase Shawn Crawford, the 2004 Olympic champion and runner-up in Beijing three years ago.
The American will face Kim Collins of St Kitts, winner of the Commonwealth Games 100m in Manchester nine years ago, double European sprint bronze medallist Martial Mbanjock of France, while Rikki Fifton will lead the British challenge.
There are expected to be 40,000 competitors for the Great Day of Sport, which begins with the Great Manchester Run and includes the Great Salford Swim.
The Great City Games later in the afternoon will feature elite athletes in a series of street sprints, including world and European heptathlon champion Jessica Ennis in the 150m and the hurdles.
British Olympic silver medallist and world 10k open water champion Keri-Anne Payne will compete in the mile-long swimming race in Salford Quays.