Island Games 2017: UK coaches to help Jersey Archery team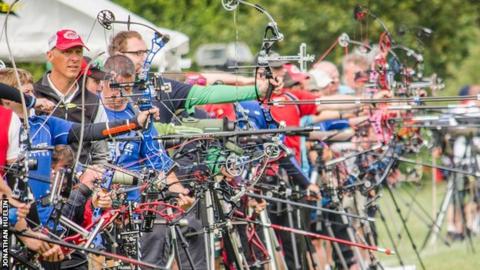 Jersey's archers at the 2017 Island Games will be boosted by the help of two coaches from the UK.
Archery GB coach Harry Heeley is to take charge of the recurve team while Midlands-based coach Phillippa Lowe is to look after the compound squad.
"It's fantastic for us to get that level of experience," veteran island archer Heath Perrett told BBC Jersey.
"They're people who've competed at national and international level who are coming and give us their support."
British international and two-time gold-medallist Lucy O'Sullivan has pulled out of Jersey's team and around half of the squad will be going to their first Island Games in Gotland this summer.
"We're probably not as strong we have been in previous years," added Perrett.
"But we'll go there, give it a good shot and if nothing else it's a good learning opportunity for people for future games."
Jersey Archery team for Gotland 2017:
Recurve: Mark Renouf, Maria Mitchell, Tadhg MacFirbhisigh, Paul Bredonchel, Jill Ruby, Ian Hamon, Sandra Robinson, Tamara Mitchell.
Compound: Heath Perrett, Angela Perrett, Cliff Graves, Theresa Graves, Karen MacFirbhisigh, Mel Mahe, Francis Rocha, Matt Dale.