Adam Ravenscroft retains Masters title
From the section Archery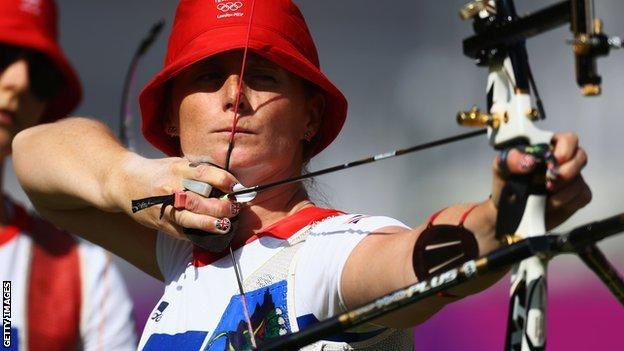 Defending Archery GB National Series champion Adam Ravenscroft retained his title by winning the UK Masters at Lilleshall.
Men's compounder Ravenscroft finished at the top of the podium ahead of Liam Grimwood in second, and third-placed Philip Glover.
Three-time Olympian Naomi Folkard won the ladies' event, Alan Wills took top honours in the men's recurve, while Rikki Bingham claimed victory in the women's compound.
Organiser Jon Nott said: "It was another fantastic weekend of National Series archery. While it was nice that the rain stayed away, the wind instead chose to play havoc with the archers.
"The wind was a nightmare for all of us on both days, so congratulations to the archers for digging in and not letting it put them off.
The National Series championship moves to Clophill, Bedfordshire, for a weekend double-header on 6 and 7 July for stages two and three. The Grand Final is at Nottingham on 1 September.