Alison Williamson targets 2012 team success over individual gold
By Nick Hope
BBC Sport at Lord's
Last updated on .From the section Archery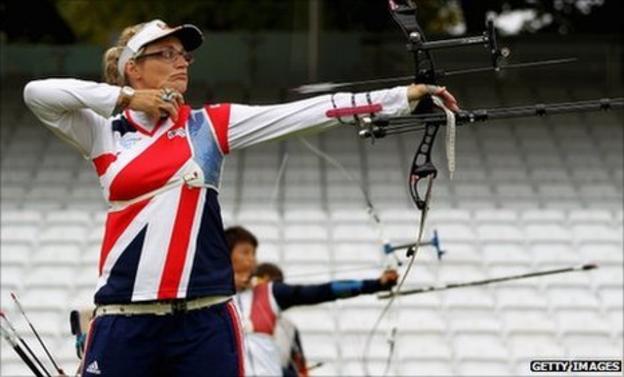 Five-time Olympian Alison Williamson says winning a team gold medal at London 2012 would mean more to her than an individual honour.
But she only narrowly missed out on a podium place in the team event alongside Amy Oliver and Naomi Folkard.
"I'm desperate to win a team medal, I think that would be the ultimate," Williamson told BBC Sport.
"It requires you to give more of yourself. There are compromises, negotiations and you have to work together, so there's a lot more to it than when shooting alone."
It has been a mixed year for Williamson - after a promising start with victory at the European Grand Prix in Turkey she endured a mid-season-slump and failed to qualify for the World Cup Grand Finals in Istanbul.
The 39-year-old admits she needs to make a few improvements to ensure selection for what would be her sixth Olympic Games.
"I'm going to be working really hard over the winter months to make sure I'm here next year, said Williamson.
"I'll be making choices over equipment this winter but also working hard technically with the coaches, psychologists and strength and conditioning teams - it would be so special to compete at a home Games."
Williamson's year mirrored that of many British archers, who only attained one medal at the 2011 World Championships in Turin, Italy. Larry Godfrey and Amy Oliver claimed bronze in the mixed-team event, but it is not part of the Olympic schedule.
"Up until the Worlds we had definitely put in some good performances, but afterwards we slightly stepped back and that's where we're been for the last few months," Archery GB performance director Sara Symington told BBC Sport.
"We will go now into a phase where there will be some very heavy reflection on what's happened, but also make sure that our plans going forward to 2012 are very robust."
Symington insists that, despite the recent results, Archery GB will not change their aspirations of winning a medal at London 2012.
"There's a lot of hard work to be done but we can't walk away from our one medal target - if we did, we would be defeating ourselves."
If Great Britain are to achieve their ambition next year they will have to overcome one enemy in particular - the elements.
While Lord's made for a spectacular setting, a major talking point throughout the test event was the impact of wind. The expansive cricket field and gaps between the stands have seen fluctuating gusts of wind affect archers' aim.
"We've trained here a bit this year but we've never encountered winds like this; I was shooting in the main field and there's no major indicator as to where to aim, it's been quite tricky," said GB's Simon Terry, who suffered a first-round elimination in the men's individual event.
Symington added: "The wind has been a huge factor this week but it didn't stop the Koreans shooting a few world records. Perhaps we didn't master the conditions as quickly as we should, but we're fully aware of what can happen at Lord's which will benefit us next year."
Great Britain's archers will battle it out for the three male and three female London Olympic Games places at a qualification event in April next year.