Archer Nicky Hunt prepared for 'massive risk'
Last updated on .From the section Archery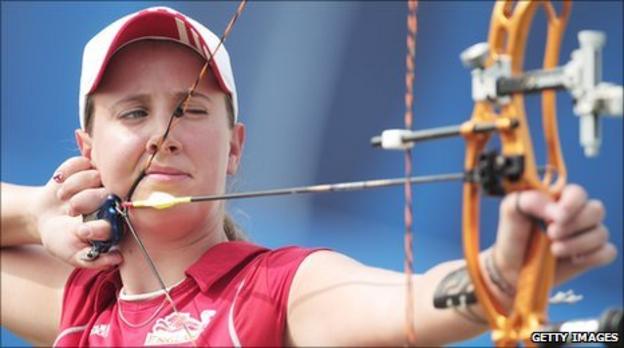 Suffolk archer Nicky Hunt says she would have looked back with regret had she not pursued a place at London 2012.
The 26-year-old is gambling her status as the world's top compound archer on the possibility of earning an Olympic berth in the recurve discipline.
"Yes it is a massive risk," she told BBC Radio Suffolk.
"But I still think I can put in 100% now and, if I don't make the team for 2012, at least I can look back and not regret not trying."
The compound discipline, in which Hunt won two Commonwealth Games gold medals last year, is not a sport at London 2012.
So she has been training in the recurve since November and hopes to be able to earn one of the three places in Great Britain's Olympic team at next year's spring trials.
"If the Olympic selection shoot was in two weeks' time I'm not going to make the top three, this is not an easy switch," she explained.
"It's going to be really hard work but it's a possibility. I've effectively got just over a year to improve, I think we can make a lot of changes in that time."
One of those changes has been taking a sabbatical from her day job as a physiotherapist to concentrate on training.
That is something which was made possible by funding from UK Sport and sponsorship from local company Movac.
"I'm shooting 600 arrows at least six days a week, so the compound really is an evening thing at the moment," Hunt added.
"They're turning into 12-hour days with the gym sessions I'm doing as well."
Hunt's compound performance has suffered because of her recurve commitments, as shown by a disappointing first-round defeat in the European Indoor Championships last month.
The Ipswich-based archer will focus on this summer's domestic recurve calendar before aiming for the second European Grand Prix in France at the end of May.