Odell Beckham Jr: New York Giants wide receiver joins Cleveland Browns
Last updated on .From the section American Football44
Odell Beckham Jr has joined the Cleveland Browns in a surprise trade deal from the New York Giants.
The 26-year-old wide receiver has only ever played for the Giants, joining in 2014 and signing a five-year $95m (£72.5m) contract extension last year.
In return, the Giants get a first- and third-round pick in the 2019 NFL draft and Browns safety Jabrill Peppers.
The Browns won just seven of their 16 games last season having gone winless through the whole of the 2017 campaign,
But the deal for Beckham Jr has seen them emerge as one of the championship contenders in the coming season.
Beckham Jr, famous for his trademark one-handed catches, was rated the third best wide receiver in 2018 with 77 receptions for 1,052 yards and six touchdowns.
"I'm extremely excited about the opportunity to be a part of this organisation and the direction they are headed," Beckham Jr said.
"Browns fans deserve a winning football team. This is a fresh start for me and it's going to be great to join Baker [Mayfield, quarterback] and Jarvis [Landry, wide receiver] on this team."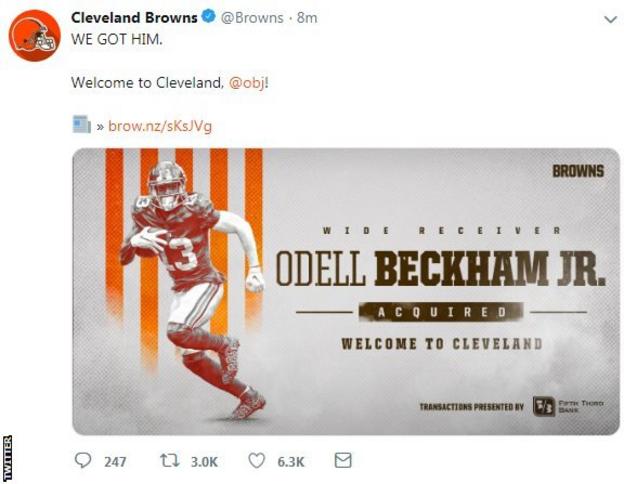 "Rarely do you get chance to acquire a player of this magnitude," Browns general manager John Dorsey said.
"It's a reflection of the direction the organisation is headed.
"My hat's off to a lot of people in this organisation because we spent countless hours, weeks... We can go all the way back to December when we began the planning phases of these types of acquisitions.
"It shows you that ownership is committed to winning."
The annual player draft starts on Friday, 26 April.
League rules prohibited teams from announcing trades until 20:00 GMT on Wednesday but an official NFL Twitter posting showed a picture of Beckham Jr in a Cleveland shirt with the message: "Coming soon in Cleveland..."
The Browns confirmed the news on Wednesday evening after the deadline, adding "We got him. Welcome to Cleveland".
Beckham Jr has scored 44 touchdowns in 59 NFL appearances.