Super Bowl 53: New England Patriots beat Los Angeles Rams 13-3 for record sixth win
Last updated on .From the section American Football642
The New England Patriots produced a defensive masterclass to beat the Los Angeles Rams 13-3 and equal Pittsburgh Steelers' record of six Super Bowl titles.
The victory also gave Patriots quarterback Tom Brady a sixth Super Bowl ring - an outright record for an individual player, eclipsing the mark he shared with Charles Haley.
Bill Belichick - the most successful coach in Super Bowl history and now, at 66, the oldest man to win it - again came up with the perfect gameplan in Atlanta as the Patriots stifled a Rams offence that averaged 32.9 points per game in the regular season.
The defensive strength of both sides resulted in the lowest-scoring Super Bowl of all time, with the 16 total points scored comfortably below the previous record of 21, set as Miami defeated Washington 14-7 in 1973.
The score was just 3-0 until late in the third quarter through Stephen Gostkowski's 42-yard field goal.
The Patriots' defence piled the pressure on 24-year-old quarterback Jared Goff and the Rams had to punt from their first eight possessions. Sean McVay's side finally got their offence moving in the third and drew level through a 53-yard field goal by Greg Zuerlein.
But Brady lofted a perfect 34-yard pass to Rob Gronkowski to set up Sony Michel to burrow over the line for the game's only touchdown with seven minutes left. Gostkowski added gloss with a late field goal as the Patriots ground out a hard-fought win.
"It was an unbelievable year, we fought through it more than anything," said 41-year-old Brady. "They [the Rams] played so well, their defence was great, they made it tough on every play."
Before the game the American National Anthem was performed by legendary soul singer Gladys Knight, while the traditional half-time show duties fell to Maroon 5, whose set alongside Travis Scott and Big Boi met with only a lukewarm reception.
Brady again recovers from slow start
Brady was struggling as much as Goff in the early stages as the Rams produced a series of defensive plays that clearly fazed the veteran.
For the first time all season, Brady threw an interception on the Patriots' opening drive and he was forced to call two timeouts to help him adjust to the Rams' gameplan.
Brady has made a habit of recovering from a slow starts in Super Bowls - in the nine he and Belichick have reached together, the Pats have scored just three first-quarter points - and once he made the required adjustments, the improvements came.
After Brady picked out a 25-yard pass to Julian Edelman, later named the game's most valuable player, Gostkowski's field goal from 42 yards opened the scoring.
Indeed, if it was not for the safe hands of Edelman there would barely have been any offence to speak of in the first half, with Brady repeatedly hitting his go-to guy as the wide receiver moved into second place on the all-time list of post-season NFL receiving yards.
And although the Rams finally got a foothold in the game thanks to Zuerlein's field goal, Brady took control when it mattered most, orchestrating the game-winning drive midway through the final quarter.
He found Edelman once and Gronkowski twice - the reliable pair en route to combining for 228 of New England's 262 receiving yards - before rookie running back Michel punched in his sixth touchdown of the post-season.
Super Bowl MVP - Julian Edelman (Patriots)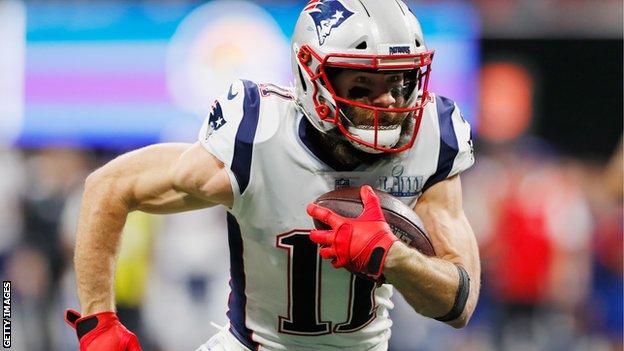 Goff feels the heat in Atlanta
Although the Rams' defence posed Brady some early problems, the Patriots had also managed to shut down the Rams' running game, putting the impetus on Goff, 24, to find a solution through the air.
But the first half finished with the Rams having claimed only two first downs and 57 yards of offence, having been in possession almost half as long as the Pats - just over 10 minutes compared to the Pats' 19 minutes and 52 seconds.
It could have been even worse. Dont'a Hightower should have claimed an interception from the very first play of the second half, before a couple of runs from Todd Gurley - so impressive in the regular season but anonymous in the play-offs - finally gave the Rams some respite.
But from their next possession Goff was forced to throw out of bounds from his own end zone and it was not until there was less than five minutes remaining in the third quarter that the Rams managed to convert on third down for the first time.
Goff spotted Brandin Cooks open during that drive, only for Jason McCourty to make a crucial tackle as Cooks attempted to make the catch deep in the end zone, although the Rams gained some reward with Zuerlein's field goal.
And even after Michel put the Pats back in front, the Rams could have hit straight back with a touchdown had Cooks hung on to a 24-yard pass into the corner, but Goff tried a similar pass with the next play and Stephon Gilmore intercepted to deal a fatal, decisive blow.
'It kills. It hurts' - what they said
Patriots head coach Bill Belichick: "It's sweet. Everybody counted us out, from the beginning of the season to midseason, but we're still here."
Rams head coach Sean McVay: "I'm pretty numb right now. Definitely I got out-coached, and I didn't do nearly enough for our football team."
Patriots wide receiver and MVP Julian Edelman: "It wasn't pretty, but I'll take that ugly win over a pretty loss any day."
Patriots quarterback Tom Brady: "I'm so happy for my team-mates. This is a dream come true for all of us."
Rams quarterback Jared Goff: "It kills. It hurts... It hurts me knowing how well our defence played, against that team, against Tom, and us not holding up our end of the bargain. It's our job to score points and we didn't do that tonight."
Fewest touchdowns, longest punt - the key stats in numbers
1 - fewest touchdowns scored in a Super Bowl

6 - Super Bowls won by Patriots quarterback Tom Brady and coach Bill Belichick. Both are records

13 - fewest points scored by a winning team in Super Bowl history

32.9 - average points scored by the Rams in the regular season

41 - Brady is the oldest player to start, and to win, a Super Bowl

65 - yards, longest punt in Super Bowl history by Rams' Johnny Hekker

66 - Belichick is the oldest coach to win a Super Bowl

141 - total receiving yards for MVP Julian Edelman

199 - Pick of the 2000 draft used to sign Brady to the Patriots

237 - career NFL wins for Brady, the most ever, overtaking former Patriots kicker Adam Vinatieri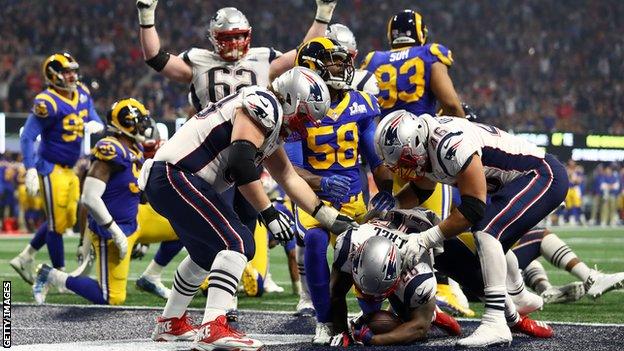 What of the Super Bowl half-time show?
Comets, drones, marching bands and Spongebob Squarepants: Maroon 5's Super Bowl half-time show had everything... except an emotional connection, writes BBC Music reporter Mark Savage.
The LA band delivered an enthusiastic, breathless history of their biggest hits - from This Love to Girls Like You - but unlike the copious pyrotechnics, their set failed to catch fire.
Singer Adam Levine threw himself into the show, dropping to his knees, bashing out guitar solos and running up and down the M-shaped stage - but the band tried to cram in too much material (nine songs in 13 minutes) to create a coherent, enjoyable show.
It didn't help that they had to make room for rapper Travis Scott, who arrived on stage by "crash-landing" in a comet, and local star Big Boi, formerly of Outkast, who drove onto the field to perform Kryptonite and I Like The Way You Move.
Read more of Mark's half-time show report.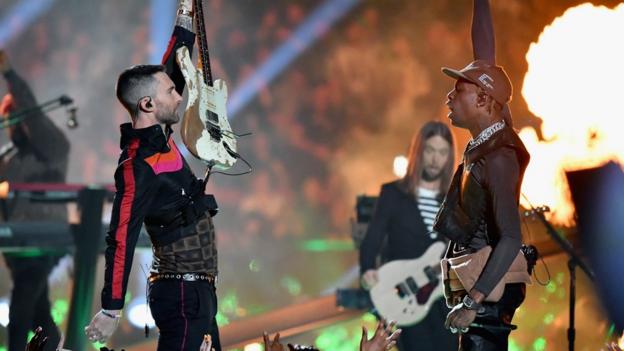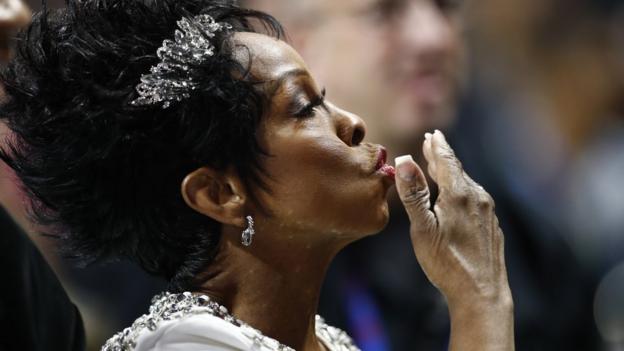 Super Bowl 53 in pictures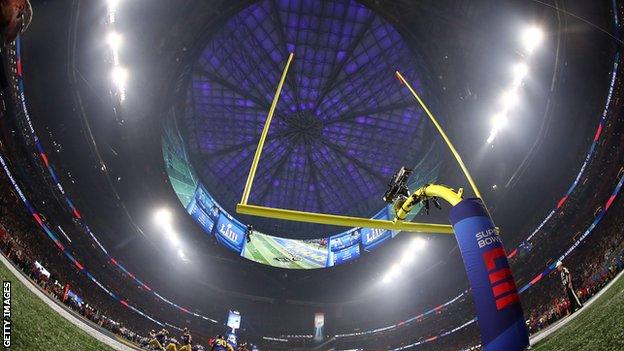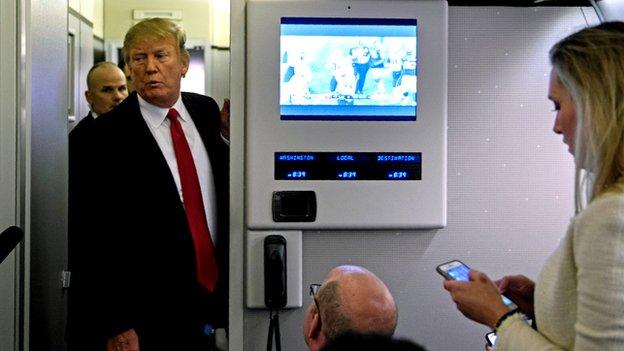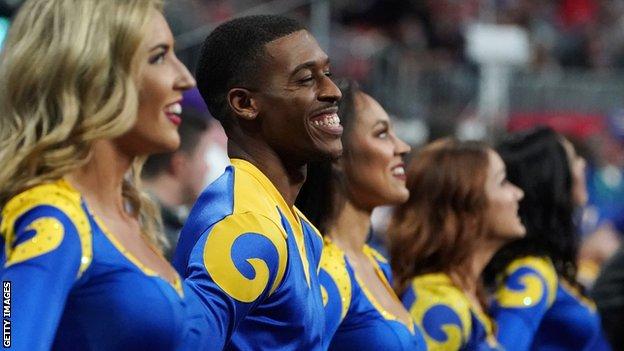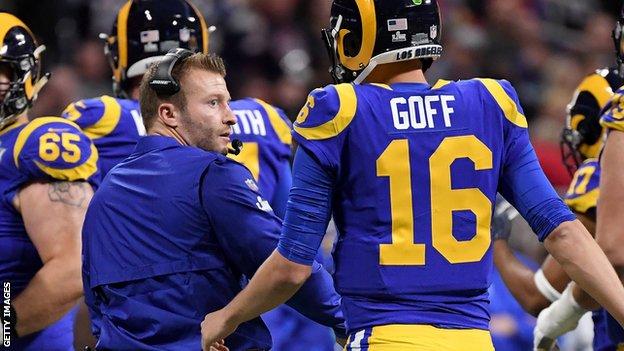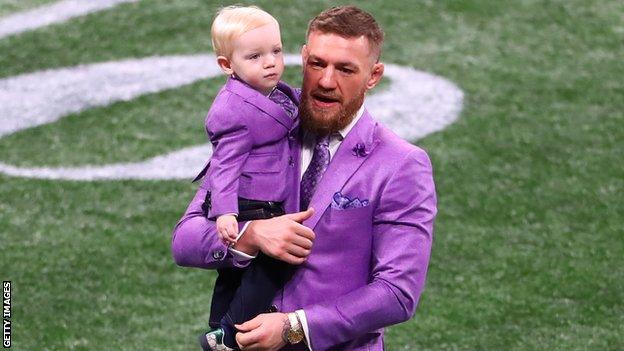 Best of social media