Reuben Foster: Sharpe questions Redskins signing linebacker but not Kaepernick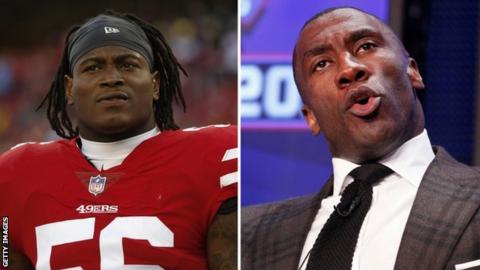 Former Denver Broncos tight end Shannon Sharpe has criticised the Washington Redskins for signing linebacker Reuben Foster two days after he was released by the San Francisco 49ers.
Foster, 24, was dropped having been arrested on suspicion of domestic violence in November.
Speaking on Fox Sports, Sharpe questioned why the Redskins were "willing to give Reuben Foster an opportunity but they are not willing to bring Colin Kaepernick in and give him a workout".
The Redskins say they "discussed" signing quarterback Kaepernick, who has not played since January 2017 after protesting against racial injustice and police brutality by kneeling during the US national anthem.
However, head coach Jay Gruden said the team decided to go in a "different direction" and gave sporting reasons that the move had not materialised - Kaepernick's need to come straight into the playing side while not being familiar with the team's plays, for example.
But Sharpe continued: "What this move tells me is they view what Kaepernick did as a more egregious act than what Foster allegedly has done."
Kaepernick has filed a grievance against NFL team owners he claims conspired not to hire him because of his protests.
Meanwhile, the ex-girlfriend of Foster, Elissa Ennis told Good Morning America she felt she had "another slap in the face" when she discovered he would be signed by the Redskins.
Ennis alleged she sustained a concussion from the slap from the 6ft tall, 16-stone linebacker.
Foster had previous domestic violence charges dropped in May and was suspended for the first two games of this season by the NFL, which cited its conduct and substance-abuse rules.
Sharpe is not the only critic of the Redskins.
CBS Sports reporter Seth Davis and NFL columnist Mike Silver also shared their views via Twitter.