Cleveland Browns & Condoleezza Rice play down talk of head coach role
Last updated on .From the section American football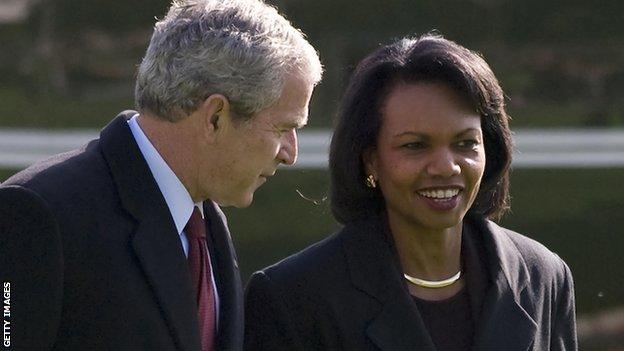 Condoleezza Rice has held some of the most high-profile roles in American politics - and for a few hours on Sunday it looked as though she may be about to switch her attention to another walk of life.
A report in the United States claimed the former Secretary of State and National Security Advisor was wanted by struggling NFL franchise the Cleveland Browns to be their new head coach.
Publications the world over picked up the story - originally run by ESPN - but swift statements by both Rice and the Browns dampened the speculation.
"I'm not ready to coach but I would like to call a play or two next season if the Browns need ideas!" Rice, 64, said in a statement on Facebook.
"I love my Browns and I know they will hire an experienced coach to take us to the next level."
Rice would have become the first woman to be interviewed for a head-coaching role in the NFL.
She added: "On a more serious note, I do hope the NFL will start to bring women into the coaching profession as position coaches and eventually co-ordinators and head coaches.
"One doesn't have to play the game to understand it and motivate players. But experience counts - and it is time to develop a pool of experienced women coaches."
ESPN, quoting a "league source", had reported that Browns general manager John Dorsey wanted to interview Rice, a prominent member of President George W Bush's administration between 2001 and 2009.
In response, Dorsey described Rice as a "great leader" but said the team was "still in the process" of shortlisting candidates and "Secretary Rice has not been discussed".
Rice, a lifelong Browns fan who often attends home games, has no coaching experience but has served as a member of the College Football play-off selection committee. Earlier this year she led a commission studying potential changes for college basketball.
The Browns sacked head coach Hue Jackson last month after he managed three wins in 39 games after being appointed in 2015.
Under Jackson, the Browns became only the second side to go through a 16-game NFL season without winning, having gone 1-15 in his debut campaign.
Their win over the New York Jets in September was the team's first in 635 days, but one win and three defeats in the games that followed led to Jackson's sacking.
They have since won one and lost one to move to 3-6-1 on the season, and sit bottom of the AFC North with six regular-season games to go.