NFL week nine review: Tom Brady wins clash of the titans as Saints beat Rams
Last updated on .From the section American football86
Five-time Super Bowl winner Tom Brady won the battle of the quarterback icons as his New England Patriots defeated Aaron Rodgers' Green Bay Packers 31-17.
Rodgers is widely recognised as the most talented quarterback in the league, but Brady showed his real talent is winning games as he guided his team to a 203rd victory in just 260 starts in the regular season.
Brady also became the first player to account for 80,000 total yards with another 294 passing, including one touchdown, but the rest of his Patriots team helped him out, with the defence limiting Rodgers and also forcing a crucial fourth-quarter fumble.
That turnover sparked the late Brady burst as he led the team to victory, capping the win with a 55-yard touchdown strike to Josh Gordon as New England moved to 7-2 for the season.
There's no doubt Brady benefits from having Bill Belichick as his head coach. Belichick pulled off another masterstroke by deploying Cordarrelle Patterson in an unfamiliar running back role, which reaped rewards with 61 yards and touchdown.
The major disappointment is Rodgers and Brady have only met twice. A third meeting could only happen this season in the Super Bowl, and with the Packers struggling at 3-4-1 that looks hugely doubtful.
"If you play long enough, and you have the sustained greatness that Tom has had, there's going to be a lot of records," Rodgers said of Brady. "He's been the gold-standard at quarterback for two decades."
NFL week nine: Saints end Rams' unbeaten run
The New Orleans Saints won their seventh game in a row and ended the only unbeaten record left in the NFL with a pulsating 45-35 victory over the Los Angeles Rams at a deafening Superdome.
Drew Brees piled up 346 yards and four touchdowns as the Saints held off a ferocious fightback from the Rams, who climbed off the floor when trailing by 21 points just before half-time to level at 35-35 in the fourth quarter.
New Orleans hit back again, though, and a 72-yard touchdown from Michael Thomas, who had a monster game for the Saints, gave his side the victory as they showed themselves to be genuine Super Bowl contenders.
Both sides excelled with some exquisite attacking play as the game lived up to the huge pre-game hype, and this could be the NFC title match come January.
The Kansas City Chiefs remain on a roll, with Patrick Mahomes enjoying the best start to a quarterback career ever with three more touchdowns in a comprehensive 37-21 victory over the Cleveland Browns.
Mahomes now has 29 touchdowns for the season, and running back and Cleveland native Kareem Hunt enjoyed his return home with a hat-trick of touchdowns in another high-powered attacking performance from the 7-2 Chiefs, who average a whopping 36 points every game.
The Los Angeles Chargers are unlucky to be in the same division as the Chiefs, but they look a serious AFC wildcard challenger after moving to 6-2 for the season by earning a fine 25-17 victory on one of the toughest road trips there is - at the Seattle Seahawks.
The Pittsburgh Steelers gained revenge on bitter rivals the Baltimore Ravens as they responded to defeat earlier in the season with a 23-16 victory that really puts the home side under pressure in the AFC North play-off race.
The Carolina Panthers are becoming a real force, and they scored a team record 35 first-half points during a 42-28 success over the Tampa Bay Buccaneers to earn their fifth win in six games.
Cam Newton's Panthers are now standing at 6-2 and look at least good enough for a wildcard spot while they're still in touch with the New Orleans Saints in the NFC South.
A ferocious Minnesota Vikings defence is finding its feet again and they had a team record 10 sacks as Detroit Lions quarterback Matthew Stafford endured a miserable night during a comprehensive 24-9 victory for the Vikings.
Minnesota is now on 5-3-1 just behind the 5-3 Chicago Bears after they enjoyed a thumping 41-9 victory over the Buffalo Bills.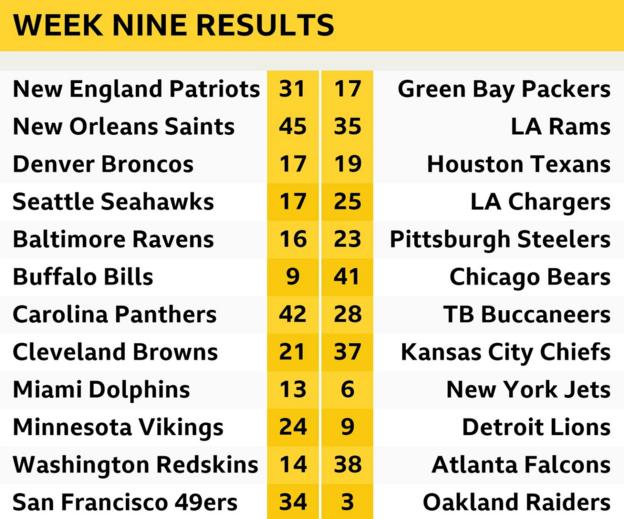 What's left in week nine?
Tennessee Titans @ Dallas Cowboys (01:15 GMT)
Both teams are struggling for form after losing their last games to slip to 3-4 so far this season, so both will be desperate to even out their records with a win in this prime-time match-up in Texas.
The teams have also had a bye week off to try and figure out a way forward - Dallas have brought in wide receiver Amari Cooper from Oakland but they'll still be looking at star running back Ezekiel Elliott to do the damage against Tennessee's stout defence.
Stats of the week
Patrick Mahomes has had the best first 10 games of any quarterback ever in the NFL, with the Kansas City star throwing 29 touchdowns and 3,185 passing yards.
The Vikings defence had a team record 10 sacks on Matthew Stafford - who'd previously only suffered as many as seven sacks in a single game.
Pittsburgh Steelers quarterback Ben Roethlisberger threw a touchdown pass, ran in a touchdown and also kicked a punt during their win in Baltimore - that's the first time a player has done all three since John Elway in 1989.
Miami Dolphins running back Frank Gore moved up into sixth place in the NFL's all-time rushing yards list as he moved above Hall of Famer Barry Sanders.
New Orleans Saints running back Alvin Kamara became just the second player aged 23 or under to score three touchdowns in three separate games in a single season.
Saints receiver Michael Thomas also had a huge game with a team-record 211 receiving yards against the Rams.
The Houston Texans are in great form after winning six in a row following an 0-3 start. They are just the second team since 1970 to win six games on the bounce after starting the season with three defeats.
Vote
If you are viewing this page on the BBC News app please click here to vote.
Michael Thomas dials it in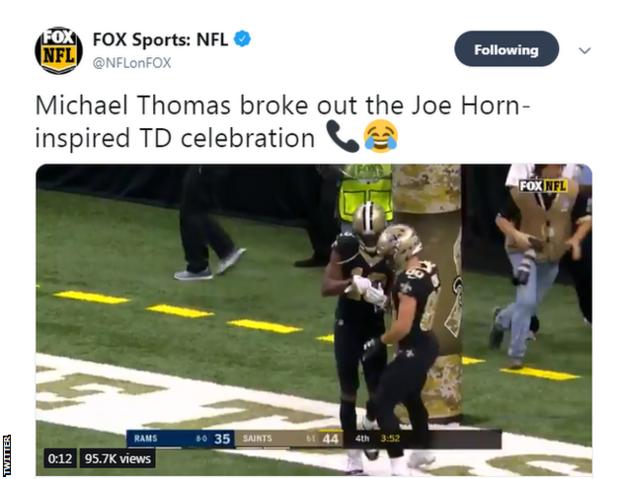 The Saints wide receiver had a huge game but many were left just talking about his touchdown celebration were he dug out a mobile phone he'd obviously planted under the goal posts before the game.
It was a tribute to former Saint Joe Horn who pulled out a phone in celebration in 2003, but not everyone saw the funny side as he was flagged for a 25-yard penalty by the referees and chastised by TV commentators for costing his side yards.
Thomas said after the game that he had hidden a phone in the goal posts at each end of the field just in case - that's some elaborate planning for a touchdown celebration.
Dolphins' Jones takes himself out of the game

Miami Dolphins safety Reshad Jones left the win over the New York Jets in the first quarter and did not return, but it seems as though it was the player who made the decision and it was not injury-related.
Jones is a seven-year veteran at Miami and it's one of the more bizarre incidents to happen in the NFL this season - it even had his coach Adam Gase confused.
"I've got to look at that and find out what everything entails. It sounds like he pulled himself out," Gase said. "So I've just got to find out kind of what happened there."
Brady the GOAT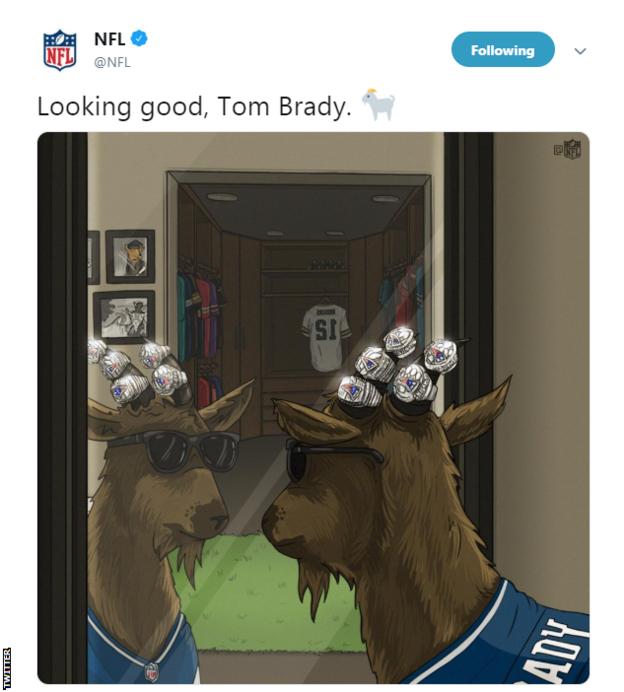 It's been a major subject of discussion in the NFL for years now but Tom Brady may just be the best player the league has ever seen, let alone the best quarterback.
Brady beat the pretenders to his throne in Aaron Rodgers on Sunday, it what was billed as a 'Battle of the GOATs' (that's Greatest Of All Time). Packers QB Rodgers only has one Super Bowl to his name but has a much loftier reputation in terms of talent, but he was unable to mastermind a win in New England.
Brady may not be the perfect physical specimen, but he's still operating at a high level at the age of 41, and he has the one talent that all quarterbacks would love - and that's the ability to win games. It's not always perfect, it's not always pretty, but Brady gets the job done - there's surely no more argument about who the real GOAT is in the NFL is there?