NFL week one review: Aaron Rodgers leads stunning Packers comeback, a rare tie & where's Bell?
Last updated on .From the section American football55
Aaron Rodgers returned from being carted off the field with a knee injury to lead the Green Bay Packers to a remarkable 24-23 victory over arch rivals the Chicago Bears.
Packers quarterback Rodgers, who signed the richest contract in NFL history just before the start of the season, left the game in the second quarter as the Bears dominated to lead 17-0 at half-time.
The lead became 20-0 early in the second half but a hobbling Rodgers sparked a tremendous comeback as he threw three touchdown passes to pinch the game from their NFC North rivals.
"It's the Bears-Packers rivalry. So it'd have to take something really catastrophic injury-wise to keep me off the field the second half," Rodgers, whose four-year contract is worth at least $134m (£103m), told NBC.
"I told the guys at half-time, 'If you shut them out, we're going to win.' We gave up six, but I just had a feeling if we could spark it and get things going."
After reflecting on the biggest comeback of his career, two-time MVP Rodgers said he would be back on the field next week in another tough test against the Minnesota Vikings.
A rare tie as Browns almost end 625-day streak
In Sunday's other games, five-time Super Bowl winner Tom Brady showed no sign of age catching up with him as the 41-year-old threw three touchdown passes for the New England Patriots who beat the Houston Texans and their returning defensive star JJ Watt 27-20.
The Cleveland Browns were one blocked field goal away from earning their first NFL win in 625 days as they held the Pittsburgh Steelers to a scrappy 21-21 tie in a wet and windy Ohio.
The Browns famously went 0-16 last season but it seemed their luck had finally turned when they overturned a 21-7 fourth-quarter deficit to force overtime, and then saw the Steelers miss a game-winning kick, only for TJ Watt to block Zane Gonzalez's effort with eight seconds left.
Back-up quarterback Ryan Fitzpatrick produced a wonderful display for the Tampa Bay Buccaneers as they stunned the well-fancied Saints in a wild 48-40 victory in New Orleans - with the journeyman throwing four touchdown passes in the shock result of the day.
Jimmy Garoppolo finally lost his first game as an NFL starter at the eighth time of asking as he and the San Francisco 49ers felt the full force of the Minnesota Vikings' defence in a 24-16 defeat in Minneapolis.
Kirk Cousins won his first start as Vikings quarterback as they hope to go one better than last season and make the Super Bowl, but defence will be their main asset and they forced four turnovers, showing why they were the top defensive unit in the NFL last season.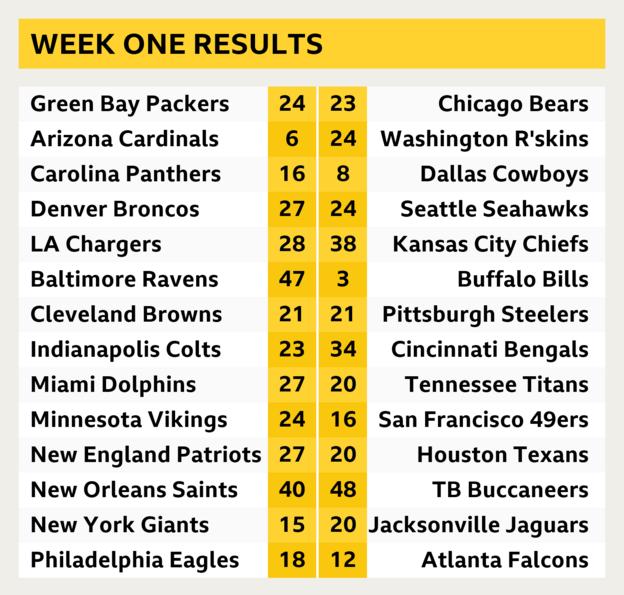 Where's Le'Veon Bell?
Pittsburgh Steelers running back Le'Veon Bell didn't show up for work this week, as he's unhappy at being offered a $14.5m (£11m) franchise contract this year, and his absence cost him a cool $853,000 (£655,000) - and the same amount again every week he doesn't report for duty.
The news didn't go down too well with some of his team-mates, who feel that one of their star players has hung them out to dry - and perhaps Bell could have made the difference in their tie at Cleveland.
Saying that, back-up James Connor ran for 135 yards and scored two touchdowns so maybe Bell's plan will backfire if the Steelers feel they can get just as much production out of Connor - this story will run and run.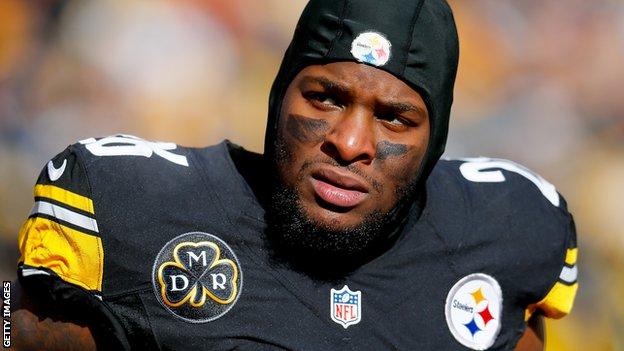 Osi on Bell & NFL contract disputes
"I was a guy that had numerous contract disputes with the teams I was in, and I did stay away but I did it the smart way - I sat on the bike and rode the bike so I was actually in the facility so I wasn't getting fined," says BBC American football expert Osi Umenyiora.
"What really disappoints me about the Pittsburgh Steelers is that offensive line (including Ramon Foster and David DeCastro) taking shots at Bell when they all know we've only got a finite amount of time to make as much money as possible from this game.
"When it's all said and done and they kick this guy out of the league, which eventually will happen to every player, who'll be looking out for him? It won't be those offensive linemen.
"The same thing that's happening to him is going to happen to all of them and they should have had his back and they can never win a Super Bowl with that type of offensive line.
"It's a different situation to over here in the UK where players have guaranteed contracts. In the NFL we don't have guaranteed contracts and I think more and more people are now starting to understand that we have to make as much money as possible in the time we're playing.
"When you have guaranteed contracts like over here people aren't as understanding about players leaving for more money."
Catch Osi Umenyiora and Jason Bell on the NFL This Week every Tuesday on BBC Two and the NFL Show on Saturdays on BBC One or on the BBC iPlayer.
Watch plays of the week
Stats of the week
The 88 total points in the game between Tampa Bay and New Orleans was the highest aggregate in an opening game of the season in NFL history.
Buccaneers quarterback Fitzpatrick became just the second player in history to record 400 passing yards, four TD passes, no interceptions and also run in for a touchdown himself. He joins Mark Rypien in that exclusive club.
The 21-21 tie between Cleveland and Pittsburgh was the first to occur on the opening weekend of the NFL season since 1971.
Chiefs receiver Tyreek Hill had an incredible day against the Chargers and became just the third man ever to have a 50-plus yard touchdown catch and 90-plus yard punt return touchdown.
Because of severe weather delays caused by lightning, the Miami Dolphins v Tennessee Titans game lasted seven hours eight minutes - the longest NFL game ever recorded.
MVP vote
If you are viewing this page on the BBC News app please click here to vote.
Landmark weekend for Peterson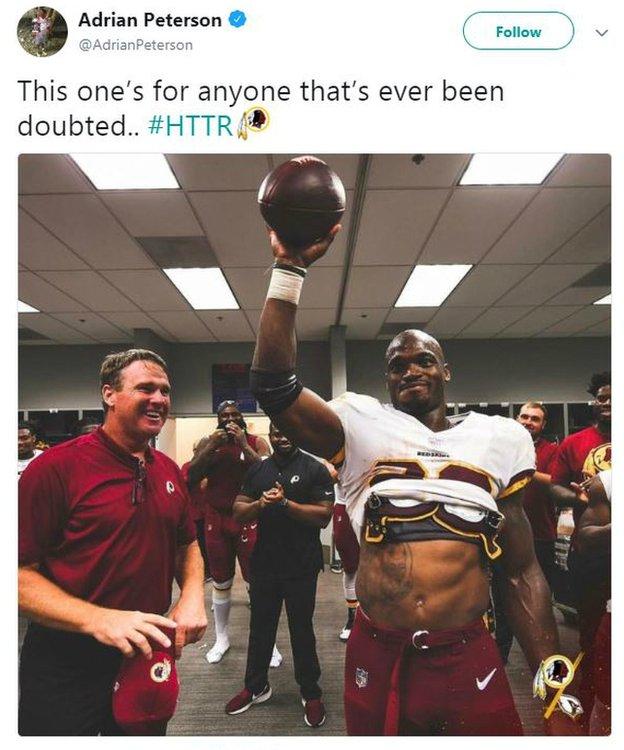 Veteran Adrian Peterson only got a job in Washington after their top draft pick was injured, but he showed he's still got it with a 96-yard game that saw him enter the top 10 of the all-time rushing list.
These lists are a big deal in the NFL, so to get into the top 10 of the most yards ever run in NFL history is a great achievement - and it came in Arizona where he finished last season early due to an injury that led many to question if his career was at an end.
It was a day of landmarks for Peterson who also scored his 100th rushing touchdown - putting him seventh in that particular list - and he looks like he'll get a few more this coming season for the Redskins.
Hill makes Legend's day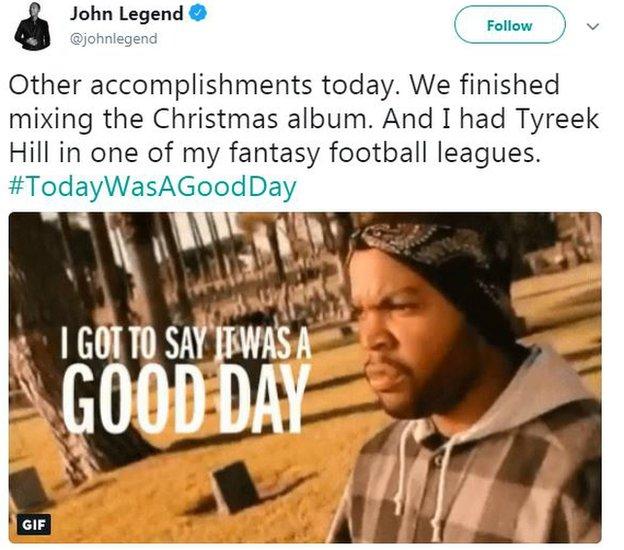 Fantasy Football is a staple for NFL fans and celebrities often voice their thoughts on happenings on the field. They include singer-songwriter John Legend who was delighted for a number of reasons on Sunday.
On the field it was mainly due to Kansas City Chiefs receiver Tyreek Hill, with the speedster scoring touchdowns for fun and being the difference in many players' Fantasy Football match-ups.
Pettis shines on debut
Rookie wide receiver Dante Pettis made an immediate impact in the NFL as his first catch was a remarkable grab at the end of a remarkable play from the San Francisco 49ers against the Minnesota Vikings.
Garoppolo performed Houdini-like escapology before tossing the ball into the end zone for a scampering Pettis to just grab the ball with his finger tips and crucially get both feet in bounds.
The more you see it the better it gets and, despite it not being enough to salvage something from the game, there could be a star partnership in the making in San Francisco.
Quote of the week
"I'm obviously not snowboarding anymore." Indianapolis Colts quarterback Andrew Luck after admitting he suffered a second shoulder injury while snowboarding in Colorado.
After he missed all of last season with a shoulder problem, resulting in the Colts winning just four games, the team are sure to have clamped down on their quarterback's off-field adventures - especially as he's on one of the biggest contracts in the league.