Colin Kaepernick's collusion case against NFL team owners can go to trial
Last updated on .From the section American football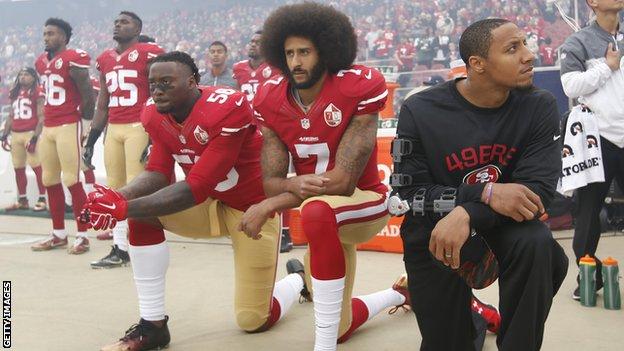 Colin Kaepernick's 'collusion' case against NFL team owners can go to trial after a request by the league to dismiss the complaint was rejected.
The ex-San Francisco 49ers quarterback believes owners are conspiring not to hire him because of his protests against racial injustice in the USA.
Kaepernick started protests by kneeling during the USA national anthem.
The 30-year-old has been without a team since opting out of his 49ers contract in March 2017.
Kaepernick's lawyer Mark Geragos has posted a statement from system arbitrator Stephen B Burbank denying the league's request to dismiss the case.
The ruling means there is sufficient evidence to allow the case to go to trial.
Kaepernick first protested by sitting during the national anthem in August 2016, before opting to kneel instead.
Other players followed suit, leading to criticism from President Donald Trump.
Players who refused to stand during The Star-Spangled Banner have said the protests were against police brutality of African Americans and racial inequality.
Earlier in August, several NFL players who protested during the anthem before pre-season games were criticised by Trump.
The NFL says plans to fine players for anthem protests have been put on hold, while it holds discussions with the NFL Players Association.