NFL Draft: Tampa Bay Buccaneers to use parrot to announce fourth-round pick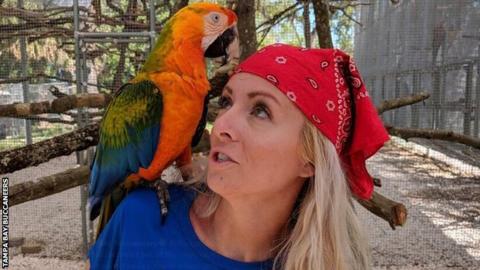 What connects Chewbacca, R2-D2, a parrot called Zsa Zsa, and the US Olympic gold-medal winning curling team?
What do you mean you don't know?
All will be among the special guests helping teams announce their picks at the NFL Draft this weekend.
The NFL's 32 teams will gather at the Dallas Cowboys' AT&T Stadium in Arlington, Texas, to allocate the best American college football players.
On Saturday - the third day of the draft - teams will use weird and wonderful ways to announce their selections
Zsa Zsa will fly onto a pirate ship in the Raymond James Stadium with the Tampa Bay Buccaneers' fourth-round pick in her beak.
The San Francisco 49ers will have Chewbacca, stormtroopers, R2-D2 and film director Ron Howard announcing their selections at Lucasfilm headquarters in San Francisco,
And the Minnesota Vikings' picks will feature members of the US men's curling team at the St Paul Curling Club in Minnesota.
Last year, an orangutan helped the Indianapolis Colts announce their fourth-round selection of offensive lineman Zach Banner.
Round one of the draft takes place on Thursday, with another six rounds taking place until Saturday.
Each NFL team has one choice per round. The order is based on how the teams finished last year. To help even up the league, the worst performing side receives the first pick - so, in theory, can gain the brightest prospect from the college system.
For the second successive year the Cleveland Browns will have the first pick, after losing all 16 games last season.