American Football 'destroyed my life' - former New York Giant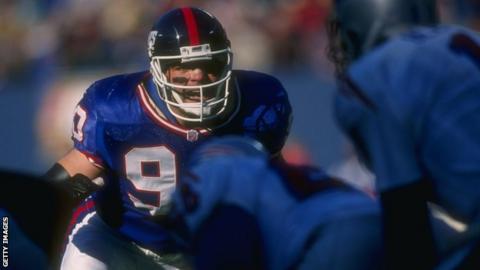 Becoming a 'Hall of Famer' is the ultimate accolade for American Footballers.
But an ex-New York Giant has declined his nomination to Montana Hall of Fame, saying the sport "destroyed my life".
Corey Widmer, 49, fears he suffers from chronic traumatic encephalopathy (CTE), a degenerative brain disease, having had numerous concussions in his career.
"I'd never want to give the impression football is safe and injuries are short term. They're not. I'm proof," he said.
The former linebacker told the Bozeman Daily Chronicle he has depression, memory problems, suffers from mood swings and seeks to isolate himself.
His thumb has recently started twitching, leading him to wonder if he is developing Parkinson's disease.
"These are the things you start to worry about. I'm depressed to the Nth degree, but have a lot of money... and some people might say it's still worth it. I just tell them to watch what they wish for," he said.
"If someone could have explained all of this to me when I was 14, I would've given it all back in a heartbeat. I would've wished for something else."
The former Montana State star said he couldn't in good conscience celebrate a sport that had caused great suffering among his friends and that he believes endangers children.
"I can't sit up there and tell interesting stories and how cool it is - the camaraderie, the fame, things like that - and have somebody else say, 'Well, if that local kid can do it, so can I'. It just doesn't work that easy."
Widmer played 114 games for the Giants between 1992 and 1999.
A 2017 study of American Football players' brains found that 99% of professional NFL athletes tested had CTE, a disease often found in athletes, military veterans, and others with a history of repetitive brain trauma.
The report published in July last year in the Journal of the American Medical Association studied 202 deceased players - 111 of them from the NFL.
All but one former National Football League player were found to have CTE.
The condition can only be diagnosed after death and the NFL has a $1bn (£665m) compensation bill to pay.