Zach Miller: Chicago Bears tight end has 'successful' surgery to save left leg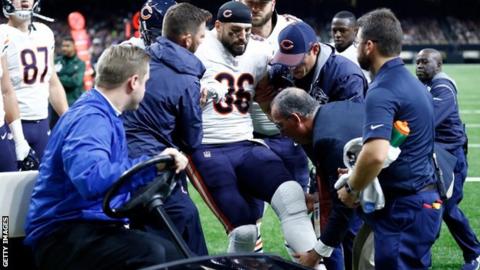 Chicago Bears tight end Zach Miller has had "successful surgery" to save his left leg after tearing a major artery in his knee on Sunday.
The 33-year-old had surgery in a New Orleans hospital following the Bears' 20-12 defeat by the New Orleans Saints.
The injury happened as Miller landed awkwardly after making a one-handed catch during the third quarter.
"He is not out of the woods, but he is as good as he can be at this stage," said Bears head coach John Fox.
Miller underwent vascular surgery to repair a torn popliteal artery to "stabilise" the injury.
"He's got a good pulse in his lower leg and good feeling in his foot, " added Fox.
Asked if Miller is still in danger of losing his leg, Fox replied: "I am not a doctor, but I feel good about where he is right now."
Miller's injury happened as he caught what was initially ruled as a touchdown, only for the decision to be overruled on review, with the officials determining that Miller did not complete the catch and had let go of the ball.
Fox added: "I talked to Zach a few hours ago, he pretty much wanted his touchdown back - he was in good spirits. "
Reports in the American media say vascular surgeons were called in an effort to save Miller's leg, including "grafting tissue from the other leg to repair the damaged artery".