Colin Kaepernick files grievance against NFL over 'collusion' not to sign him
Last updated on .From the section American football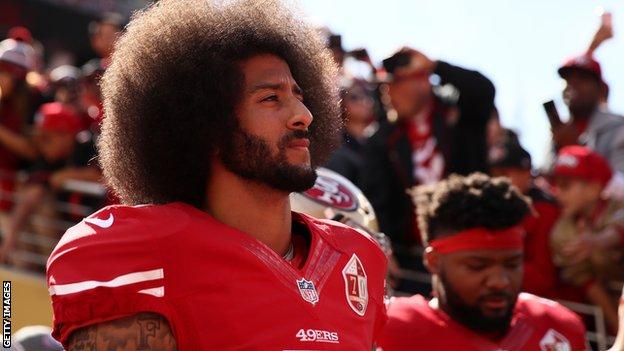 Colin Kaepernick has filed a grievance against NFL team owners he believes are conspiring not to hire him because of his protests against racial injustice.
Kaepernick, 29, has been without a team since he opted out of his contract with the San Francisco 49ers in March.
He first protested by sitting during the national anthem in August 2016, before opting to kneel instead.
Other players followed suit, and criticism from President Donald Trump this September saw the protests spread.
In a statement released on Sunday, Kaepernick's lawyers wrote: "We can confirm that this morning we filed a grievance under the CBA on behalf of Colin Kaepernick.
"This was done only after pursuing every possible avenue with all NFL teams and their executives.
"If the NFL (as well as all professional sports leagues) is to remain a meritocracy, then principled and peaceful political protest - which the owners themselves made great theatre imitating weeks ago - should not be punished and athletes should not be denied employment.
"Such a precedent threatens all patriotic Americans and harkens back to our darkest days as a nation. Protecting all athletes from such collusive conduct is what compelled Mr Kaepernick to file his grievance.
"Colin Kaepernick's goal has always been, and remains, to simply be treated fairly by the league he performed at the highest level for and to return to the football playing field."
Speaking to BBC Sport last week, Robert Kraft, owner of the New England Patriots said he had "never heard anyone talking about excluding" Kaepernick.
Some players from the 49ers again knelt during the anthem before their match on Sunday.
They were playing for the first time since US vice-president Mike Pence walked out of their game in Indianapolis, after several members of the team did not stand.
Analysis
Richard Conway, BBC Radio 5 live sports news correspondent
Colin Kaepernick started NFL's "take a knee" protest movement in 2016 but many feel he has paid a high price for his political stance.
After opting out of the final year of his contract with the San Francisco 49ers (the team said he would have been dropped regardless) he's hasn't been picked up by another organisation.
That's despite injuries to quarterbacks such as Marcus Mariota at the Tennessee Titans. Kaepernick had to watch on as others were given a trial.
It seems he's grown tired of this situation and is now taking direct action.