Odell Beckham Jr: New York Giants wide receiver out for season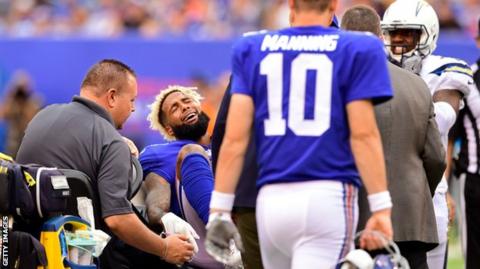 New York Giants wide receiver Odell Beckham Jr will miss the rest of the season after breaking an ankle in his side's loss to the Los Angeles Chargers on Sunday.
Beckham Jr, 24, landed awkwardly in a heavy challenge late on as his side were defeated 27-22 - their fifth loss in five games this season.
"It's fair to say his season is over," said head coach Ben McAdoo.
Houston's JJ Watt also announced he will miss the rest of the NFL season.
The three-time NFL Defensive Player of the Year played just three games last season because of a back injury that required two surgeries.
He's now been ruled out with a broken leg.
"I can't sugarcoat it, I am devastated," Watt said. "All I want to do is be out there on that field for my teammates and this city. I'm sorry."
Watt has helped raise more than $30 million to aid the victims of Hurricane Harvey that hit Houston and the surrounding region in August.
'It's a sad situation'
The Giants announced on social media that Beckham Jr will have surgery on the injury this week, with McAdoo adding: "I spoke to Odell after the game. It's a sad situation."
Last month, Beckham Jr was fined £9,200 after celebrating a touchdown by mimicking a dog urinating.
The Giants lost four wide receivers to injury against the Chargers, as Dwayne Harris broke a foot and Sterling Shepard and Brandon Marshall both left the game with ankle injuries.
"It looked like he was in some pain," quarterback Eli Manning said of Beckham Jr's injury. "I just told him I will be thinking about him."
The Giants will be hoping to end their poor run in their next fixture against the Denver Broncos on Monday, 16 October.