BBC Sport - NFL play-offs: Aaron Rodgers throws Hail Mary touchdown for Green Bay Packers v New York Giants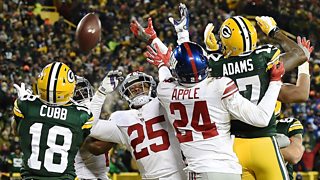 Watch Rodgers throw 'unbelievable' Hail Mary
Aaron Rodgers stuns the New York Giants with a 42-yard Hail Mary touchdown pass to Randall Cobb on the final play of the first half during Green Bay's 38-13 play-off victory.
Watch highlights of all the weekend's wildcard action in NFL This Week on BBC Two, Tuesday 9 January, 23:15 GMT.
READ MORE: Green Bay Packers and Pittsburgh Steelers win wildcard games
Available to UK users only.