BBC Sport - NFL plays of the week: Tyreek Hill's 95-yard touchdown for Kansas City Chiefs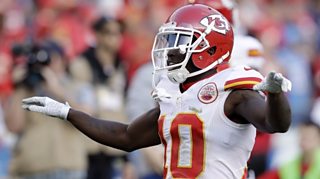 NFL plays of the week: Hill's 95-yard touchdown
Watch week 17's plays of the week from the NFL, including a 95-yard punt return from the Kansas City Chiefs' Tyreek Hill during their 37-27 win over the San Diego Chargers.
WATCH MORE: Bryant makes amazing one-handed catch
Watch NFL This Week, Tuesday 3rd January, 23:15 GMT on BBC Two and on the BBC Sport website & app.
Available to UK users only.