NFL: New York Giants fined £121,279 for illegal walkie-talkie use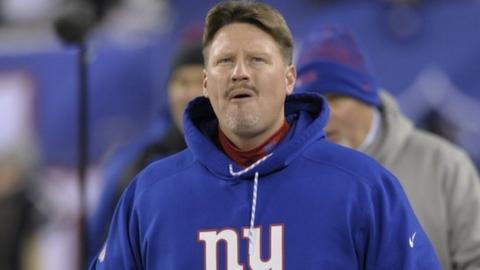 The New York Giants have been fined $150,000 (£121,279) for illegal walkie-talkie use during their game against the Dallas Cowboys on 12 December.
Coach Ben McAdoo was also fined $50,000 (£40,422) for using the device after the regulated communication equipment used to stay in contact with quarterback Eli Manning malfunctioned.
The team have had their fourth-round pick in the 2017 draft moved to the end of the round, after compensatory picks.
The Giants defeated the Cowboys 10-7.
The NFL stated that the walkie-talkie was used for five plays on an early fourth-quarter drive.
Rules about communication between NFL team coach and on-field players
The coach-to-player system allows a member of the coaching staff in the bench area to communicate to a designated offensive or defensive player with a speaker in his helmet. The communication begins once a game official has signalled 'a down' to be over, and is cut off by the NFL game-day coordinator when the play clock reaches 15 seconds or the ball is snapped, whichever occurs first.
League policy prohibits a coach from using devices such as a walkie-talkie during the game because he would not be cut off from talking by the coordinator.