BBC Sport - NFL This Week: Miami's Ryan Tannehill attempts shocking pass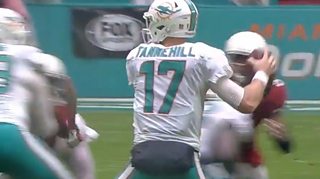 Is this the worst pass you'll see in the NFL?
Watch as Miami Dolphins quarterback Ryan Tannehill throws a shocking pass in wet weather during their 26-23 win against the Arizona Cardinals on Sunday.
WATCH MORE: 'Tackle could have ended that man's career'
Available to UK users only.
Get Inspired Activity Finder
Run by the BBC and partners
Find ways to get active near you: