BBC Sport - NFL: Kansas City Chiefs' Tyreek Hill scores 78-yard punt return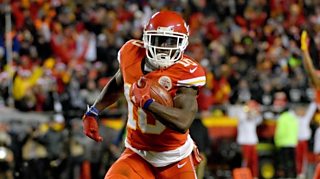 Chiefs' Hill scores 78-yard punt return
Kansas City Chiefs' Tyreek Hill scores a 78-yard punt return during their 21-13 win against Oakland Raiders.
You can catch up with all the latest action on NFL This Week on BBC iPlayer.
And you can watch highlights of the Chiefs' victory against the Oakland Raiders on The NFL Show on Saturday, BBC One, at 23:50 GMT.
Available to UK users only.