Colin Kaepernick: San Francisco 49ers give him first start in a year
Last updated on .From the section American football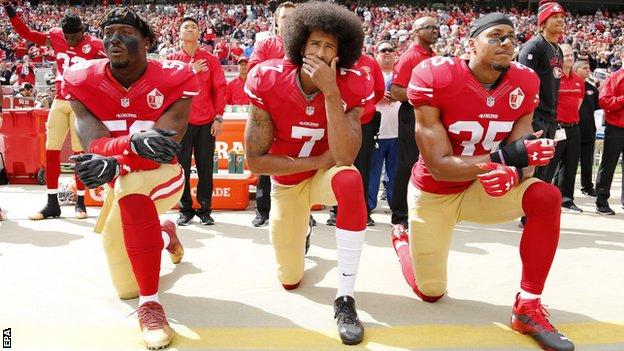 Colin Kaepernick will make his first start in nearly a year when the struggling San Francisco 49ers play the Buffalo Bills on Sunday.
Kaepernick has sparked controversy by his refusal to stand for the American national anthem in protest at the plight of black people in the US.
But the 28-year-old quarterback will replace Blaine Gabbert after four defeats in a row for the 49ers.
"It's a football decision," said head coach Chip Kelly.
"Offensively, we need to be better and just make a move. It's not Blaine's fault. I think as a group, offensively, we need to be better in a lot of ways."
Kapernick revealed last month he has received death threats over his refusal to stand for the national anthem.
He has either sat or kneeled during the Star-Spangled Banner before games, a decision that has been both praised and criticised in the US.
It has sparked a national debate about race relations, policing and the mixing of politics and sports.
Many other athletes in the NFL and some in the NBA have copied the gesture, but the silent protests have angered some fans who call it disrespectful to the US flag.