Deflate-gate: NFL gives backroom staff permission to return
Last updated on .From the section American football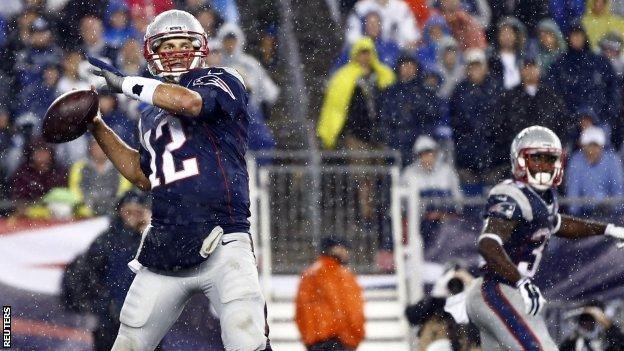 The NFL has ruled that two New England Patriots backroom staff implicated in 'deflate-gate' can return to work.
Equipment assistant John Jastremski and locker-room attendant Jim McNally were central to the incident, in which air was allegedly taken out of balls to make them easier to throw and catch.
McNally described himself as "the deflator" in texts between the pair.
The Patriots beat Indianapolis Colts 45-7 in the AFC Championship play-off and went on to win the Super Bowl.
Quarter-back Tom Brady was alleged to have colluded in the deflation of the match balls and was banned for four games before a judge overturned that ruling.
The league also fined the Patriots a record $1m (£660,000) and stripped them of two draft picks following its 243-page report, which found Brady was "generally aware" of the scheme.
McNally and Jastremski were suspended by the team, with the league insisting they could not return to their previous roles.
However, the Patriots confirmed last week that they had applied to the league to have the sanction lifted and that permission has now been granted.
It has not been disclosed what the duo's new responsibilities will be.
"The Patriots have satisfied the league's requirements for reinstatement and the league has granted permission for the employees to return,'' read an NFL statement.