NFL safety boss says the league could ban helmets one day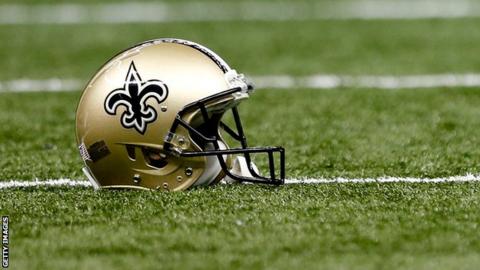 The chairman of the National Football League's health and safety advisory commission believes American football could ban helmets in the future.
The NFL has tried to reduce the risk of head injuries over the last five years and recently reached an almost $1bn legal settlement with ex-players suffering with head trauma.
But some experts think helmets give the players a false sense of security.
"Can I see a time without helmets? Yes," said Dr John York.
"It's not around the corner, but I can see it."
The idea of banning helmets has been raised by some doctors and ex-players in recent years without ever really being taken seriously.
The reason the idea is back on the table is because of the NFL's belated acceptance of the link between head injuries and the type of neurological problems that only boxers were believed to encounter in later life.
Faced with a spate of tragic incidents involving former players struggling with depression, memory loss and mood swings - as well as growing cultural awareness of the issues surrounding concussion - the league has introduced a raft of rule changes.
Kick-offs were moved further up the field to reduce the number of high-speed impacts and helmet-first tackles have been banned. More protection has also been given to players unable to protect themselves, such as quarterbacks in the act of throwing.
But York, who is also the co-chairman of the San Francisco 49ers, says that has been only half of the story, with each game now having at least 27 "health officials" on the sidelines, as well as an independent expert assessing television pictures to make sure injured players are taken off.
York says the league has also invested in medical research, led a "heads up" education campaign targeted at the youth game and worked with manufacturers to improve helmets.
All this has added up, he claims, to a 36% reduction in concussions over three years and a 52% fall in helmet-to-helmet impacts.
But those improvements have not been enough to stop two 49ers - Chris Borland and Anthony Davis - from retiring early because of concerns about brain injuries.
Borland was a rising star, with no history of concussions, who quit after just one season in the league. The 24-year-old linebacker feared his health could suffer from the long-term effects of concussion and walked away from a four-year deal worth a reported £2m.
American football players first started wearing head protection - initially made from leather - at the turn of the 20th century when skull fractures and neck injuries were a significant and sometimes fatal problem.
Hard plastic helmets entered the game in the 1940s, with facemasks becoming commonplace in the early 1960s.
By the next decade, extra cushioning was added and all helmets had to meet minimum impact-resistance standards.
These developments were intended to improve safety, but they also emboldened players to make bigger hits, often using their helmets like battering rams. Concussions were inevitable.
For the game to be played without helmets, York says the league would have "to do away with" the three-point stance and start each play in a more upright position.
The three-point stance is the starting position usually taken by linemen when the ball is snapped - the three points being the player's feet and a hand on the ground for balance.
Such a stance enables players to launch themselves at each other headfirst, providing the trademark crunch that punctuates each play.
York, a retired cancer specialist, admits an element of danger is inherent in American football, as it is in most sports.
But he thinks the NFL, which is used to making changes, should continue to tweak its rules, including, perhaps, ditching its iconic headwear.