Adrian Peterson: Minnesota Vikings running back appeal fails
Last updated on .From the section American football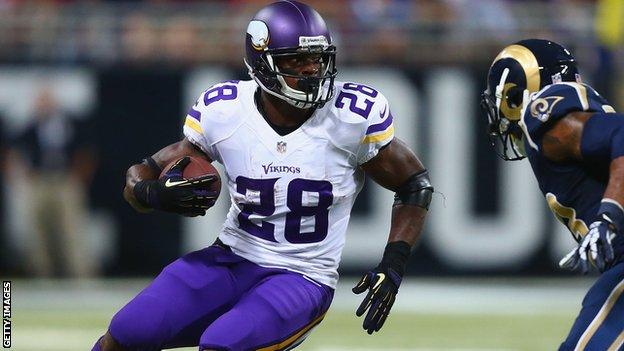 Minnesota Vikings player Adrian Peterson has lost his appeal against a season-long suspension and fine.
Peterson, 29, was punished by the NFL after he pleaded no contest to the misdemeanour charge of recklessly assaulting his four-year-old son.
Appeal arbitrator Harold Henderson ruled Peterson had failed to show flaws in the process for the initial ruling.
"I've considered retiring from the NFL," said running back Peterson told ESPN.
He added: "I still made $8m [£5m] this year. I've thought about going after the [2016 Rio] Olympics. You only live once. It might be time for me to pursue that."
The ruling means Peterson has been fined more than $4.1m (£2.6m), which is the cost of the six-game suspension that was issued in November under the league's personal conduct policy.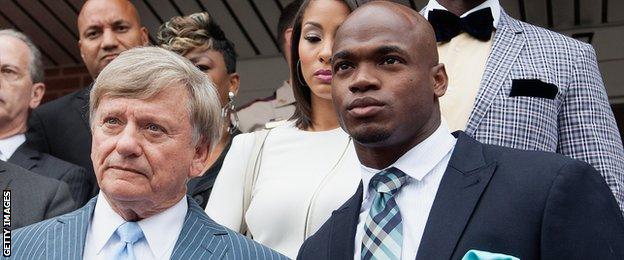 The 29-year-old, who was initially suspended in September, will not be considered for reinstatement before 15 April.
The NFL Players' Association called Henderson's objectivity into question.
"The decision itself ignores the facts, the evidence and the collective bargaining agreement," said the Association in a statement.
"This decision also represents the NFL's repeated failure to adhere to due process and confirms its inconsistent treatment of players."
Peterson has played for Minnesota since 2007 and in 2012 won the NFL's Most Valuable Player award.