NFL kick-off 2014: Menelik Watson eyes Oakland Raiders success
By Ian Shoesmith
BBC Sport
Last updated on .From the section American football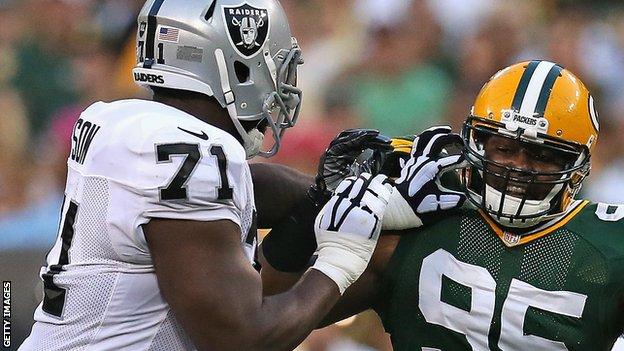 Menelik Watson has always been hungry.
Now it is the big beasts of the National Football League who are the chosen prey for this softly spoken but incredibly focused 25-year-old.
And while Watson, who is 6ft 5ins and has bulked up to tip the scales at 315 pounds (22½ stones, 143kg), has come a long way from the streets of Longsight, he certainly does not think he has yet made it in American football.
Despite having never played the game until three years ago, Watson's combination of power, speed and mental toughness at Florida State University made him one of the most highly sought-after young players in the 2013 NFL draft.
Something in the water?
Longsight already has a couple of famous sporting sons - Sunderland defender Wes Brown and Arsenal striker Danny Welbeck, both former Manchester United players.
He was eventually picked in the second round by the Oakland Raiders and his meteoric rise seemed complete.
Until he got injured, that is, and spent most of his rookie campaign on the sidelines.
"It brought me back down to earth," Watson told BBC Sport during a trip home to Manchester this summer. "I like to work and not talk. I'm still very sore about how the year went last season - it was a disappointment to myself. And that's added fuel to the fire, man, and I'm on a mission this year."
Was it just a case of trying too hard?
"It was a mixture of things - I went straight from the college season, which was brutal, into combine training (designed to impress NFL scouts) which was a totally different type of thing. It's all about working on your 40-yard dash time and working different muscles," he explained.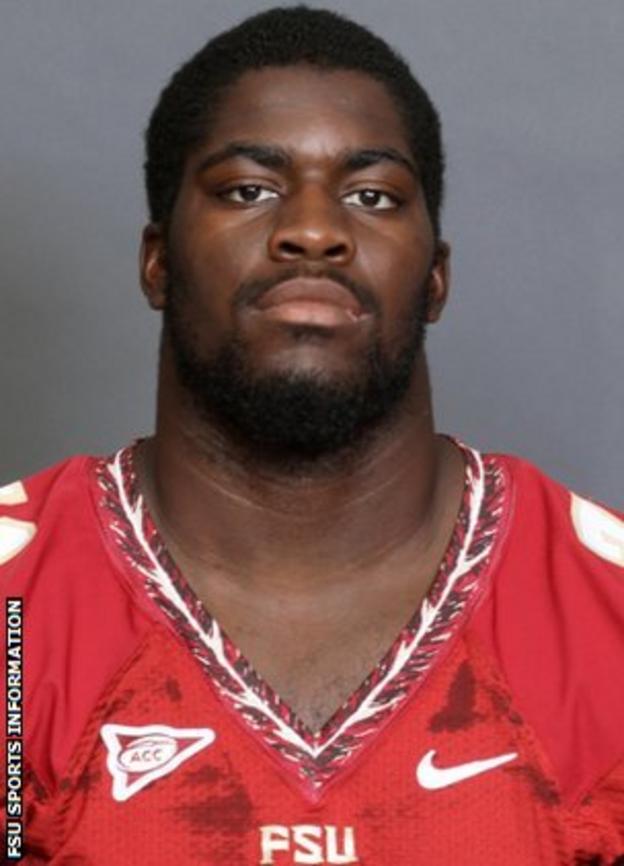 "My body was all out of whack and I wasn't getting all of the massages or therapy in order to prevent certain injuries."
The biggest lesson Watson has learned from his first season in the NFL? "To take care of my body - to listen to my body."
Watson has since put those injury problems behind him and looks certain to be the Raiders' starting right tackle on the offensive line - opening up gaps for running backs to charge through, and helping to protect his quarterback from blitzing defenders.
Unlike other sports, though, there are no reserve leagues in the NFL, and this makes competition for places on each team's 53-man roster incredibly tough.
Does the sport suffer for that?
"It doesn't," says Watson, "because it creates elitism. You either make the elite group or you don't. It creates this 'do or die', 'make or break' environment which is very intense.
"From a business standpoint it's very harsh but I guess the strong can endure it."
Apart from baffling team-mates with his strong accent and annoying them by constantly going on about his beloved Manchester City, Watson says he loves being part of the Raiders set-up.
But given that professional sport is often an uneasy compromise between teamwork and single-minded individualism, how tough is it to be mates with guys who are your rivals?
"You know, it's funny - a lot of coaches preach to you about protecting your job. But honestly, for me, I'm not interested in what somebody else is doing. I'm interested in being the best I can be and if I can be the best that I can be I will never have to worry about anyone coming in and taking my job."
Watson in numbers

Age: 25

Arm length: 34in (86cm)
Height: 6ft 5in (1.96m)

Vertical jump (tests explosive power - players jump off both feet straight up as high as they can): 24½in (62cm)

Weight: 315 lb (22½ stones, 143kg)

Hand size (distance between the outside of the thumb to the outside of the little finger): 10½ inches (26cm)
Speed: Ran the 40-yard dash in 5.29 seconds

Broad jump (measures how far you can jump rather than how high. From a standing position, players jump forward off two feet as far as they can) 8ft 7in (2.62m)
The NFL is a league which prides itself on competitive balance - it is not uncommon for a team to go from worst to first within a couple of seasons.
As such, Watson says that given "a lot of the games come down to a single touchdown or field goal, you really have to pay attention to the fine details.
"At college level you might go up against one out of four defensive ends who has got the full package - very professional with the way he handles himself; he's a great athlete; he's got a great technique - and then you might go up against a guy who is not a great athlete but is a great technician, or the other way round.
"But in the NFL everybody can play, everybody is fast, everybody is strong. You just have to find that edge."
Watson is particularly looking forward to a rare local derby between the Raiders and the San Francisco 49ers - they only meet once every four years because they are in different conferences.
Previous NFL International Series games at Wembley

2007: New York Giants 13-10 Miami Dolphins

2008: San Diego Chargers 32-37 New Orleans Saints

2009: New England Patriots 35-7 Tampa Bay Buccaneers

2010: Denver Broncos 16-24 San Francisco 49ers

2011: Chicago Bears 24-18 Tampa Bay Buccaneers

2012: New England Patriots 45-7 St Louis Rams

2013: Pittsburgh Steelers 27-34 Minnesota Vikings

2013: San Francisco 49ers 42-10 Jacksonville Jaguars
A 2012 pre-season friendly proved anything but - fights in the stands, a beating in a bathroom and two shootings in the car park led to such games being cancelled.
Which makes their 7 December clash even more eagerly awaited.
When asked whether the Raiders-49ers rivalry was bigger than City v United in Manchester, Watson was reluctant to be drawn.
"It's big," he replied. "They don't like each other and yeah, it was pretty bad.
"It's interesting to see that we're playing them again. It's all the fans are talking about.
"I'm glad they are coming to our place so we're going to make it nice and intimidating for them!"
Before the Niners come to town, though, the Raiders - who will face the Miami Dolphins at a sold-out International Series game at Wembley Stadium on 28 September - kick off their 2014 campaign on Sunday in New York against the Jets.
Wembley will also host the Atlanta Falcons and Detroit Lions on 26 October, while the Jacksonville Jaguars - who have committed to playing a game at Wembley each year until 2016 - will meet the Dallas Cowboys on 9 November.
The 2014 season gets under way on Thursday (the early hours of Friday morning in the UK) when defending Super Bowl champions Seattle host Green Bay.
Other highlights of the opening weekend include the Cowboys visiting the 49ers' new stadium, the Pittsburgh Steelers hosting AFC North rivals Cleveland and the Indianapolis Colts welcoming the Denver Broncos.