Peyton Manning: Denver Broncos quarterback regains NFL record
Last updated on .From the section American football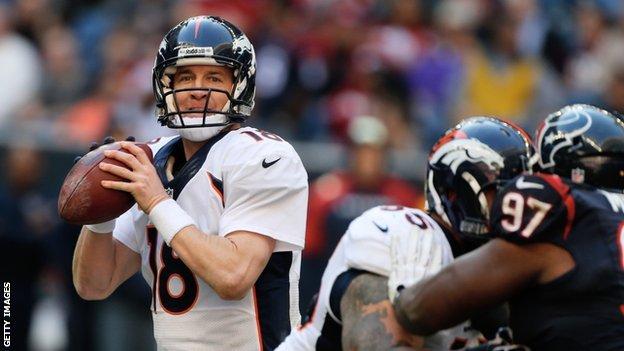 Denver Broncos quarterback Peyton Manning broke the NFL record for touchdown passes in a season on Sunday.
Manning, 37, threw four touchdowns in a 37-13 win against Houston Texans to take his total to 51 for the season with one game left to play.
He regained the record that he held for three years before New England quarterback Tom Brady broke it in 2007.
"I really feel like it's a team accomplishment, certainly an offensive accomplishment," said Manning.
Manning set the new record with a 25-yard completion to tight end Julius Thomas in the fourth quarter.
He added: "A lot of people played roles in this. I think it's a unique thing to be a part of NFL history, even though it may be temporary. Brady will probably break it next year and the year after, so we'll enjoy it for as long as it lasts."