NFL looking to build fanbase in United Kingdom
Last updated on .From the section American football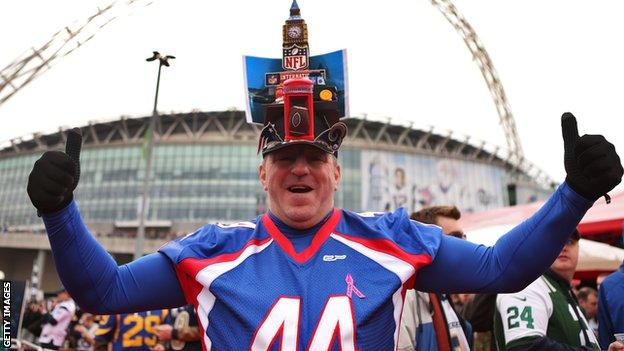 The NFL say they want to continue to grow their fanbase in the UK.
"In the US we are essentially saturated," Chris Parsons of NFL International told BBC London 94.9.
"What we have been doing over the past six years, playing games here in the UK, is really about embedding the sport into the popular culture."
He added: "When you think about it, we have got a tremendous following in the United States and are the number one sport, but it is hard to grow when you are that big.
"Our next frontier is international. We have made a real focus of the UK being our primary investment market globally."
Pittsburg Steelers take on Minnesota Vikings this weekend, while the Jaguars will play San Francisco 49ers on 27 October.
Last year Jacksonville Jaguars, whose owner Shahid Khan recently bought Premier League football club Fulham, agreed a four-year deal to play one regular-season match per year at Wembley.
"We sell the stadium out every year and this year we brought two games which sold out in record time," Parsons added.
"We want to continue to play more games and nurture a young fanbase that will grow up loving the NFL.
"That gives us a platform to be able to do more things in the future."
With NFL commissioner Roger Goodell mooting a third London game in the coming years, Parsons says their target is for American football to be among the five most popular sports in the UK.
"Our goal is to essentially move up the rankings of popularity of sport," said Parsons.
"In the UK, depending on which measures you look at, we are inside the top 10 in terms of the number of fans that we have.
"That is great and we have moved up significantly but we want to really push into that top-five position.
"We think we have got a great sport which, by its very nature, provides incredibly close games, a tremendous play-off system and a world-famous Superbowl.
"With the experience we have had in bringing it to the UK so far, this will get bigger and bigger. The more popular we get, the better it is for us in the long term."