Cornish Sharks aiming for revenge over Bristol Apache
Last updated on .From the section American football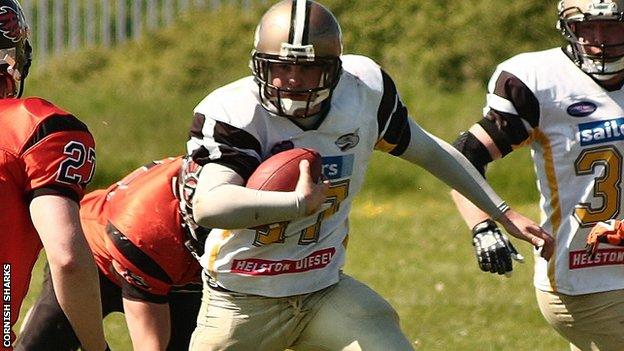 Cornish Sharks boss Brian Smallworth wants his side to bounce back from last month's when they host them on Sunday.
The Sharks conceded 30 points in the third quarter during the defeat.
"They won't get away with what they got away with in the last game," Smallworth told BBC Radio Cornwall.
"They haven't got that much, they caught us on two interceptions, a reverse, and they scored off a safety and that won't happen this weekend."
Smallworth, who coached Bristol to the National Division Two in 2003, says his young squad learned a lot form their loss two weeks ago.
They before the loss at Bristol.
"It was a bit of an eye-opener for the boys. In the third quarter, numbers showed," he added.
"We took 24 players with seven rookies and they had 72 players on the sidelines and they just rotated on a hot day and wore us down.
"We've got 21 youngsters coming up from our youth projects so we're a fairly young squad, but with the senior players working with the youngsters you can see the talent that we've got.
"They're not frightened of playing senior football, but it's been an eye-opener for a few as they've been stuck on their backsides, but it's senior football and these boys will hit you."