Free agent Tim Tebow signs for the New England Patriots
Last updated on .From the section American football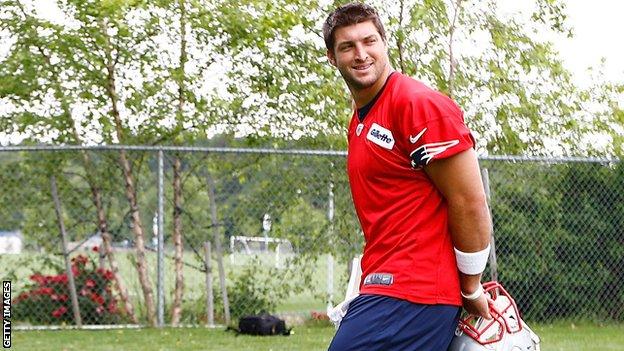 Tim Tebow has joined the New England Patriots following his release by the New York Jets.
The 25-year-old former Denver Broncos quarterback will act as back-up for Tom Brady at the Gillette Stadium.
Committed Christian Tebow, is famous for going down on one knee in prayer to celebrate touchdowns.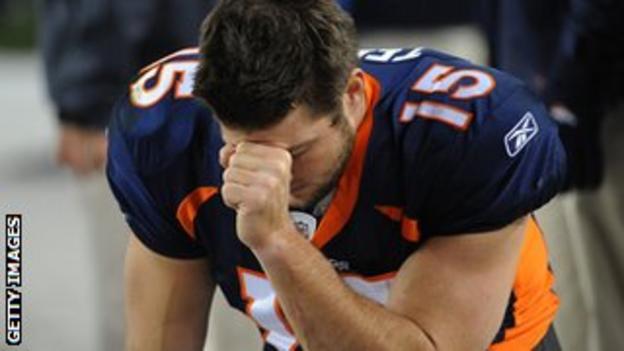 Tebow said: "I want to thank the Patriots for the opportunity. It's an honour to be a Patriot, play for Bill Belichek and learn under Tom Brady."
Head coach Belichick is confident Tebow can make an impact, despite his difficulties at New England's AFC East rivals last season.
He said: "Tim is a talented player that is smart and works hard. We'll see how it goes. I like Tim. I have a lot of respect for Tim.
"We've all seen him play. He can do a lot of things. We've seen that."
Tebow, who won the Heisman Trophy in 2007 for the best player in college football, was initially a cult figure with Denver.
He joined the Jets in March 2012 but, struggled badly. He attempted only eight passes, throwing for just 39 yards, and rushed 32 times for 102 yards.
The Patriots have not released any details of Tebow's contract.