NFL Draft 2013: Menelik Watson goes to Oakland Raiders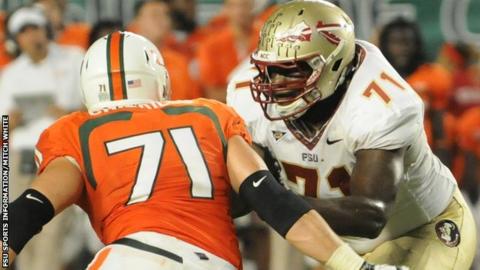 Menelik Watson has been selected by the Oakland Raiders early in the second round of the 2013 NFL Draft.
The 24-year-old offensive tackle from Manchester, who only took up the sport two years ago, had been widely tipped to be drafted in the first round.
But the former Florida State University star was picked up as the 10th player in the second round, the 42nd overall.
The Raiders, who have won three Super Bowls, struggled badly last season as they won only four of their 16 games.
Watson and his advisors will now negotiate a contract, expected to last four years. The NFL's minimum salary for rookies is $405,000 (£262,000).
Neither Tom Wort, a 20-year-old linebacker from Crawley in West Sussex, nor London 2012 discus finalist Lawrence Okoye, who has never played a competitive game of American football, were drafted on day two at the Radio City Music Hall in New York.
The third and final day will take in rounds four to seven inclusive.
The NFL's 32 teams are then free to sign any remaining players, known as free agents.
After overcoming an impoverished childhood in the tough Longsight area of Manchester, a severely broken ankle which led to fears of amputation, and the realisation that he was not going to make it as a basketball player, Watson's journey has been an incredible one.
Of being drafted by the Raiders, he said: "When I was a kid I knew nothing about American football but I had an Oakland Raiders jersey for some reason and I don't know where it came from or how we got it.
"I think it's my older brother's and I don't know how he got it but I used to wear Oakland Raiders' jersey so it's really strange that I'm getting drafted for them."
"I think it's still back in my wardrobe back home in England."
Oakland is known for being a tough city, whose passionate fans expect their team to play in a physical, uncompromising style.
"That's me to a T," said Watson.
"I didn't really want to go [to the Draft] because I'm not really into the glitz and the glamour. I'm really a work guy. I really just want to hurry up and get to work.
"I don't go out and I'm not into the nightlife. I wanted to get myself a job and get myself an occupation. I think that's pretty much it. That's me to a T."
Watson will join another Briton in Oakland, Londoner Jack Crawford.
The defensive end, who signed for the Raiders last season, went to school in London with Harry Potter star Daniel Radcliffe before moving to the United States.
"I know Jack. Me and him, he will tell you, we played each other when we were 15, 16 years old in the English national [basketball] championship game and we actually beat them by 25 points!
"But yeah, Jack was one of the top prospects in England and in parts of Europe too at the time. He was really good, and when he got drafted last year I meant to get his number and text him and congratulate him too."
This year's Draft is unusual in that there are no outstanding quarterbacks graduating from the college game.
In 12 of the last 15 years, the top pick has gone to the sport's most glamorous position.
Twelve months ago, everybody was talking about Andrew Luck, who went on to have an outstanding debut season for the Indianapolis Colts, and Robert Griffin III, who did likewise for the Washington Redskins. Two other quarterbacks were selected in the first round.
This year, however, Watson's Florida State team-mate EJ Manuel was the only quarterback picked on the opening day.
As part of the NFL's long-established policy of maximising competition between its teams, the Draft order is determined by how teams fared in the previous season.
As 2012's worst team, the Kansas City Chiefs were awarded the first pick and, as expected, they selected the outstanding left tackle Eric Fisher.
The Jacksonville Jaguars, who will play one of their home matches at London's Wembley Stadium for each of the next four years, plumped for another left tackle, Luke Joeckel.
Day One's biggest surprise was sprung by the Miami Dolphins, who did a deal with the Oakland Raiders in order to take defensive end Dion Jordan.
The third pick had originally been Raiders', but they were sufficiently tempted by Miami's offer of the 12th overall pick as well as a second-round pick (42nd overall).