Drew Brees breaks Dan Marino's 27-year NFL passing record
Last updated on .From the section American football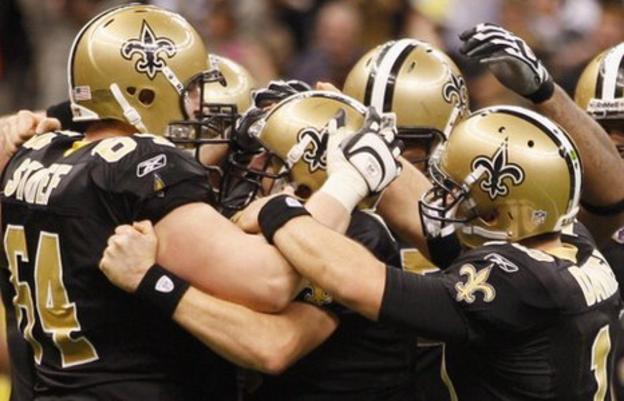 New Orleans Saints quarterback Drew Brees has broken Dan Marino's 27-year-old record for passing yards in an NFL season.
The 32-year-old's final pass in the 45-16 home win over Atlanta Falcons saw him pass Marino's mark of 5,084 yards for Miami Dolphins in 1984.
Brees ended the game with four touchdowns and 307 yards as the Saints clinched the NFC South title.
"Honestly, I was trying not to think about the record," he said.
"I knew we were close. I got [rushed] by the offensive lineman and I figured at that point, 'Ok, I guess we finally broke the record or they wouldn't be hoisting me up like this.'
"So many people contributed to this and I'm happy for them."
Brees's nine-yard pass to Darren Sproles with two minutes 51 seconds remaining in the fourth quarter not only confirmed Saints's seventh successive win but eclipsed one of the longest-standing individual records in NFL history.
Marino tweeted his congratulations to Brees, saying: "Great job by such a special player."
On average, Marino threw the ball about 35 times per game during the 1984 season. This year, Brees has typically had nearly 42 attempts, significantly boosting his chances of breaking the record.
Brees now has 5,087 yards to his name with one match of the regular season remaining.
New Orleans have a 12-3 winning record and can secure second seeding for the play-offs with victory over Carolina next week, coupled with a San Francisco defeat to St Louis.
Brees also becomes the first NFL quarterback to twice throw over 5,000 yards in a season, having achieved the feat in 2008.
Saints coach Sean Payton admitted he would not normally have called for a passing play so late in the game.
He said: "Typically, would I be throwing there? The answer would probably be no. In fact, the answer is I wouldn't be.
"But I thought it was appropriate to get [the record] and we did it. I felt real good about my decision."