Afrobasket: Tunisia beat Ivory Coast to successfully defend title
By Michelle Katami
BBC Sport Africa, Kigali
Last updated on .From the section Sport Africa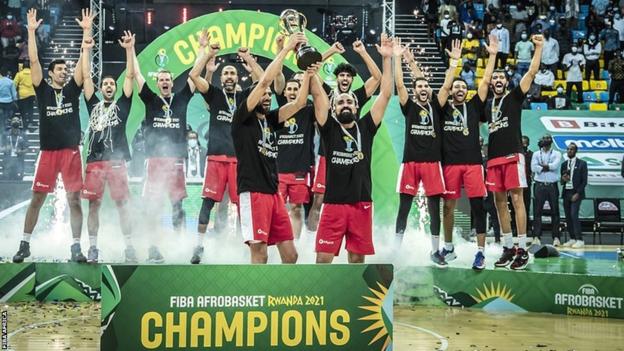 Tunisia beat Ivory Coast 78-75 in the Rwanda capital Kigali on Sunday to defend the Afrobasket title they won in 2017.
The triumph marks the first back-to-back successes the North Africans have had in the tournament, and equals a feat previously achieved by Angola, Senegal and Egypt.
The Tunisians scored more in both opening quarters to lead 47-33 at half-time, after which the Ivorians, in only their second final since last winning the title in 1985, started to fight back.
Ignacio Lezcano Moya's side won the two final quarters, narrowing the deficit to just six points at the end of the third quarter - a lead that was just three at the buzzer.
"I am just really proud of my team and what they have achieved in this tournament, against really, really good competition," said Tunisia coach Dirk Bauermann.
"Today was an extremely difficult game, we managed to win it with great defensive possession at the end. We give our opponent a lot of credit, they made our lives so difficult. They kept coming back and they never gave up."
Salah Merji led the way for Tunisia, scoring 22 points with Michael Roll also contributing with 18, but it was captain Makram Ben Romdhane who was named the tournament's the most valuable player of the tournament.
He singled out the harmony in the squad as a key factor in their success.
"From the time we came here until the end, I've never seen one guy in practice or in the hotel who is angry," he told BBC Sport Africa.
"Everybody is happy and after dinner, we go to our rooms, speak and play cards - 12 players every night. When I see this, this feeling that we live like family, I believe this team deserves to be champions."
Two-time winners Ivory Coast, meanwhile, had to settle for second best, just as they did when last reaching the final in 2009.
"In most finals, you need players and even a coach that has already played these kind of games as a team," Lezcano said.
"The lesson we can take is that we have to keep working hard, because at the end if you work hard you have the prize and we almost did it. Next time this experience is going to be available."
Earlier on Sunday, Senegal took third place when beating Cape Verde 86-73 with Gorgui Dieng scoring 30 points for the five-time champions.
After making the semi-finals for only the second time, Cape Verde's Joel Ameldia says they will keep fighting for a brighter future.
"I believe this is great momentum going forward. Cape Verde people are like fighters: it doesn't matter when you fall, the next day you are going to get up and keep fighting - and that is what we are trying to do."