Afrobasket: South Sudan's fairytale comes to an end
By Michelle Katami
BBC Sport Africa, Kigali
Last updated on .From the section Sport Africa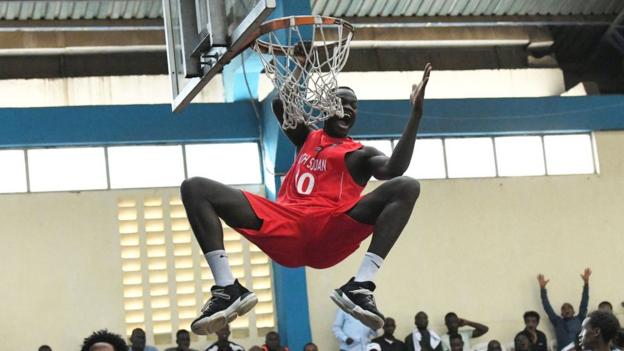 South Sudan's fairy-tale run at the Afrobasket in Kigali came to an end on Thursday with a defeat to holders Tunisia in the quarter-finals.
The debutants lost by 80 points to 65 against the defending champions in their biggest challenge so far.
South Sudan only joined world body Fiba in 2013, two years after the country's independence, and faced a Tunisian team that is yet to taste defeat at the tournament in Rwanda.
South Sudan coach Royal Ivey was full of praise for his players after an emotional end to their campaign.
"I am lost for words because these guys did everything I asked them to do from day one," Ivey told BBC Sport Africa.
"We have been here for almost a month, they sacrificed time with their family, they sacrificed their freedom being in the bubble and these guys work hard. And if I asked them to run through the wall, they will do it.
"And I am so appreciative. This young team - we got a lot to be proud of. I told these guys back in the locker room, 'don't hold your head,' they are hurting right now, I am hurting right now, it is a tough loss you know.
"At the end of the day we have a bright future. So we take the good with the bad, the happy with the sad, and show gratitude for the opportunity to compete at a high level.
"We will be back. We will better. We will be stronger. We will be faster. We will be older. So, looking forward to it."
Ivey, an assistant coach for the Brooklyn Nets in the NBA, took charge of South Sudan earlier this year after previous coach - and former NBA star Luol Deng - stepped down.
Deng is now president of the South Sudan Basketball Federation and has repeatedly stressed the importance of the sport to a country which celebrated its tenth year of independence in July.
"We come from a country that has been through a lot," the two-time NBA All-Star told BBC Sport Africa.
"Some of these kids - what they went through - is something that you cannot control and as life goes on, a lot of people never get an opportunity to come back home, let alone to wear a jersey and represent the nation.
"For them it is more than just a game, it is really emotional, to just be recognized by their own people and to be known even for the game.
"I really believe that sport can turn a lot of things around for us - for us just to see us in the news and see others things besides the conflict and what is going and the difficult times people are having."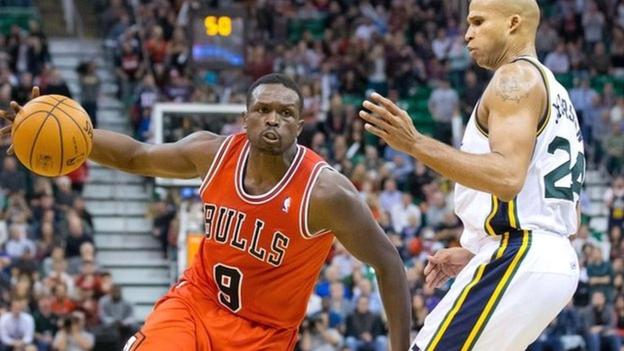 Deng, who played for the Chicago Bulls, Cleveland Cavaliers, Miami Heat, LA Lakers and Minnesota Timberwolves in a 15-year NBA career that ended two years ago, believes basketball is made for South Sudanese.
"This game just perfectly fits who we are - it fits our height, it fits our genetics, it fits our skills," explained a man who fled war in his homeland prior to growing up as a refugee in England.
"We are blessed to have basketball but we just never had the opportunity to expose it and to give our kids the chance to be great at it."
Tunisia will meet Cape Verde in the semi-finals after their 79-71 victory on Thursday over a Uganda side who had upset 2015 champions Nigeria with an 80-62 win earlier in the week.
On Wednesday, Senegal and Ivory Coast set up a semi-final clash against one another when beating Angola and Guinea respectively.
Five-time champions Senegal knocked out the only team to have won more titles than them - record 11-time winners Angola - when winning 79-74.
The scores were level at 74-apiece with just under a minute of play left before the Senegalese, who have yet to lose in Rwanda, sealed a tense win against a side that underperformed in the group stage.
Later on Wednesday, Ivory Coast extended their winning to four, just like the Senegalese, when thrashing Guinea 98-50.
Both semi-finals take place on Saturday, with the winners meeting in the final on Sunday in the Rwanda capital.