Fifa confirms appointment of Fatma Samoura in Africa
By Piers Edwards
BBC Sport Africa
Last updated on .From the section Sport Africa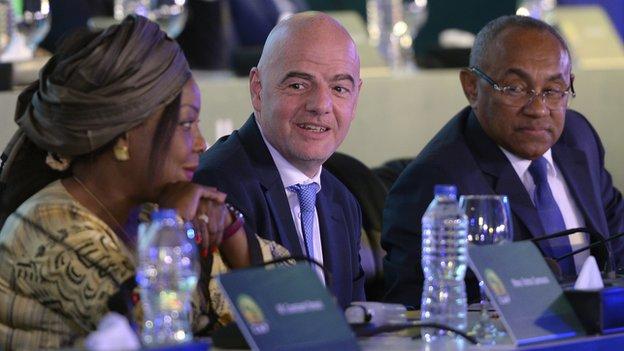 Football's world governing body has confirmed that its secretary general Fatma Samoura has been appointed 'Fifa General Delegate for Africa' in a bid to improve governance on the continent.
Samoura, from Senegal, will take charge for six months from 1 August, with the relationship "renewable with the agreement of both organisations".
"It was also agreed that Fifa and Caf will undertake as soon as possible a full forensic audit of Caf," the statement added.
Samoura, 56, will remain secretary general of Fifa but will delegate various functions to others.
Her appointment was questioned on Thursday by both Uefa President Aleksander Ceferin as well as by certain members of Caf's Executive Committee (ExCo), who have told BBC Sport Africa the decision was not 'unanimous' as has been claimed.
Fifa used that description in a statement while also calling the move an "exceptional and temporary measure" as it outlined the precise role the former United Nations official will take.
While Fifa is used to appointing so-called 'Normalisation Committees' to run member associations that require help, it is unusual for it to assist a confederation in similar difficulties.
Caf President Ahmad has been under scrutiny recently on several fronts, which include being questioned by French authorities in Paris in early June before being released without charge.
This was as "part of a probe into corruption, breach of trust and forgery" - with the 59-year-old from Madasgascar dismissing all allegations against him as false.
Other recent issues include controversy relating to the African Champions League final and rescheduling the timing of the 2019, 2021 and 2023 Africa Cup of Nations finals.
He is also being investigated by Fifa's ethics committee, whose probe will run independently and parallel to Samoura's role, said a source with knowledge of the process.
The statement added that Ahmad proposed Fifa's "expertise to assess the current situation in the African governing body … to ensure that Caf functions with transparency [and] efficiency while abiding to the highest governance".
Assisted by several experts "in a spirit of partnership with President Ahmad and his team", Samoura is set to:
To oversee operational management of Caf, including governance and administrative procedures

To ensure the efficient and professional organization of all Caf competitions

To support the growth and development of football in all countries and regions of Caf
These roles, which will run until at least 31 January, were approved unanimously by Caf's Executive Committee (ExCo), the statement added.
CONCERNS
However, at least two ExCo members have told BBC Sport Africa that the statement was not unanimously approved by the board of African football's ruling body.
Meanwhile, a leaked message from Tanzanian Leodegar Tenga to Ahmad and fellow ExCo members late on Thursday gave further insight into discussions they held in the Egyptian capital Cairo on Wednesday.
"There is no doubt that at our Exco Meeting yesterday, we unanimously agreed that, in principle, we do agree to the cooperation between FIFA and CAF would lead to promoting integrity, ethical practice and FairPlay and eradicating corruption," Tenga wrote.
"But we also agreed that Exco members would be given time to go through the proposed text and come up with the details of the cooperation.
"Finally it was agreed that the matter will be discussed at the forthcoming Exco Meeting where details and mode of cooperation would be sorted out."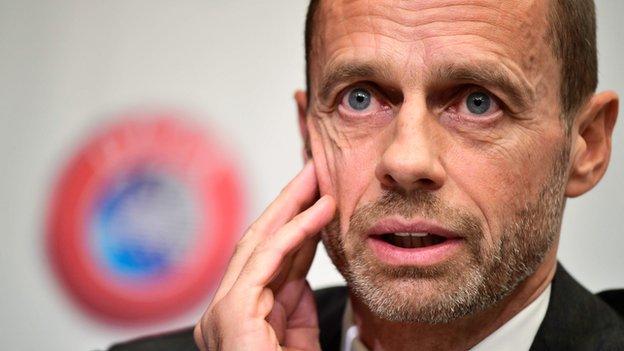 Elsewhere, the president of European football body Uefa - Aleksander Ceferin - expressed his concerns in a letter to Fifa President Gianni Infantino.
The Slovenian questioned the lack of an official document from the Caf ExCo confirming its decision, possible conflicts of interest and whether the proposal complied with both Fifa and Caf statutes.
"For these various reasons I cannot approve the proposal set out in your letter sent to the Fifa Bureau of the Council members to appoint a Fifa General Delegate for Africa," said the 51-year-old.
"Never in the history of our institutions has the Fifa Secretary General been placed on secondment to take control of a confederation, even with the latter's consent," he added.
Samoura's role had been labelled the 'High Commissioner for Africa' prior to Fifa's statement on Thursday.
In his letter to Fifa's members of the Bureau of the Council, Infantino further outlined some of the areas that will be covered by the proposed audit.
"Given current circumstances, the Fifa Administration has already recommended that a central audit review be conducted of all Fifa Forward Funds allocated to Caf, to ensure that funds have been, and are being, put to proper use and that there is no evidence of wrongdoing or mismanagement," he wrote.
In addition to addressing ongoing concerns over its governance, Caf is staging the Africa Cup of Nations in Egypt which gets underway on Friday as the host nation plays Zimbabwe in Cairo.