NBA Africa: Philadelphia 76ers' Joel Embiid targets world domination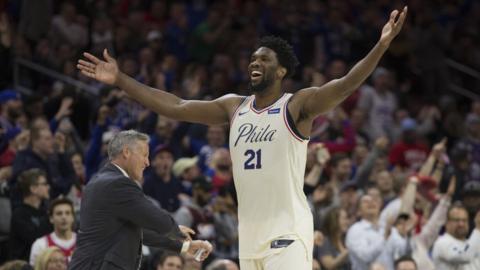 World domination is on the mind of Cameroon's NBA superstar Joel Embiid.
"I want to be the best player in the league," the Philadelphia 76ers centre told BBC Sport Africa.
"I want people to say that an African basketball player is the best player in the whole world."
The 24-year-old played in his first NBA Africa game at the weekend, as the league brought together a collection of the best players in the world to take on the continent's finest in South Africa.
He was unable to help Team Africa to a first victory in three attempts, as they narrowly lost 96-92 to Team World, but the event had more meaning for the 7ft centre.
The game is the showpiece to a week of festivities called 'Basketball Without Borders', as the NBA and Fiba, basketball's international governing body, combine to create this outreach programme.
Each year a camp is held with some of Africa's most promising young basketball players. It was at a camp like this that Embiid was discovered by American basketball.
"I've made it a goal to come back here every year and try to be with the kids because I was one of those kids back in 2011," he said.
For the campers at the event, it provides an opportunity to rub shoulders with the some of the world's best players, something Embiid knows all too well.
"I see this as an opportunity to learn," he added. "As a kid, I was 16 when I was here and I was so excited just being around the legends and NBA players.
"You want to be around them and you want to learn from them."
Embiid's excellence represents an exciting opportunity for Africa.
Drafted by the Sixers in 2014, he is now viewed by many as being near the top of the game as earlier this year he was voted by fans to the NBA All-Star game for the first time.
And his achievement is all the more incredible given the fact he has been playing the sport for less than 10 years.
"There's definitely a lot of undiscovered talent in Africa," he said. "If I'm one of them and there's a few other guys in the league, that means that there must be some that are hidden."
If Embiid's father had had his way, his son's star talent may have been hidden away for ever.
"I started watching when I was 14," Embiid said. "It was the NBA finals, I think the Lakers against Orlando. That's how I became a big Kobe [Bryant] fan. From there I wanted to start [playing] but my Dad wouldn't let me start.
"One of my uncles had a talk with him to tell him to let me try it."
The rest is history and Philadelphia fans are certainly grateful for his uncle's intervention. Last season Embiid helped lead the team into the playoffs for the first time in six years.
African fans are certainly thankful too. Embiid is a born showman and the continent has taken to him.
His face was plastered on billboards across Johannesburg and Pretoria as the NBA used his star power to market the match. When his name was announced before the game, the Sun Arena crowd in Pretoria had saved the biggest ovation for him.
He may have been on the losing side but for Embiid, his bid for world domination begins back home, hopefully with others following in his footsteps.
He said: "I feel like it's going to be great, especially for the young kids and basketball in general, just knowing that there's an African player as the best player in the best league in the world.
"So hopefully they will think 'if he did it, we can do it too'."