Coronavirus-hit sports to benefit from £300m emergency funding rescue package
Last updated on .From the section Sport353
The government has announced a rescue package of £300m of emergency funding for sports in England impacted by the absence of spectators because of coronavirus.
Both rugby codes and horse racing are among the beneficiaries, but not clubs in football's Premier League or the English Football League.
Cricket was not on the initial list.
DCMS minister Oliver Dowden told BBC Sport it is "the most generous single package of any country in the world".
Speaking to BBC sports editor Dan Roan, Dowden added that the package is "essential" to the sport sector and provides a "lot of support".
When asked if it was enough to prevent clubs and competitions folding, he said the package is "evidence-based" and reflects the numbers provided by each sport to help them through a "difficult winter".
The government said the Sports Winter Survival Package, which will be largely composed of low-interest loans, will support rugby union, horse racing, women's football and the lower tiers of the National League. It added that rugby league, motorsport, tennis, netball, basketball, ice hockey, badminton and greyhound racing were also in line to benefit.
In July, the government announced a £1.57bn support package for Britain's arts industry.
"It's worth remembering we have provided well over £1bn to sports already through things like the job retention scheme and various loan facilities," said Dowden.
"This is a very specific thing - sports, and mainly winter sports, were expecting to have fans in stadiums and didn't, we said we'd help them out."
Sports minister Nigel Huddleston added that grants would be available where organisations were unable to repay loans. He also said "the door was open" to any sport requiring funding, including cricket which was not on the initial list.
The money available is for sports in England, with Scotland, Wales and Northern Ireland responsible for their own budgets.
The Department for Digital, Culture, Media & Sport (DCMS) statement added: "Preliminary allocations have been made on a needs-based assessment process and reflect the submissions made from the individual sports, and the funding process will be overseen by an independent decision-making board and supported by Sport England."
It said the first tranche of funding will be distributed in the coming weeks.
A breakdown of funding distribution (preliminary figures):
Note: The final amount received by each sport/organisation may differ from the amounts set out when final decisions are made by an independent decision-making board, and supported by Sport England.
Rugby Union: £135m - Rugby Football Union: £44m; Premiership clubs: £59m; Championship clubs: £9m; Clubs below Championship: £23m
Horseracing: £40m - To racecourses
Football: £28m - National League (steps 1-2): £11m; National League (steps 3-6): £14m; Women's Football (Women's Super League and FA Women's Championship): £3m
Rugby League: £12m
Motorsport: £6m - Owners/operators of major circuits (Silverstone, Goodwood, The British Automobile Racing Club, MotorSport Vision)
Tennis: £5m - Lawn Tennis Association
Netball: £4m - England Netball: £2m; Super League Netball: £2m
Basketball: £4m - Basketball England: £1m; British Basketball League clubs (including Women's British Basketball League clubs): £3m
Ice Hockey: £4m - Elite League
Badminton: £2m - Badminton England
Greyhound racing: £1m - Greyhound Board of Great Britain
'It's a bit of breathing room'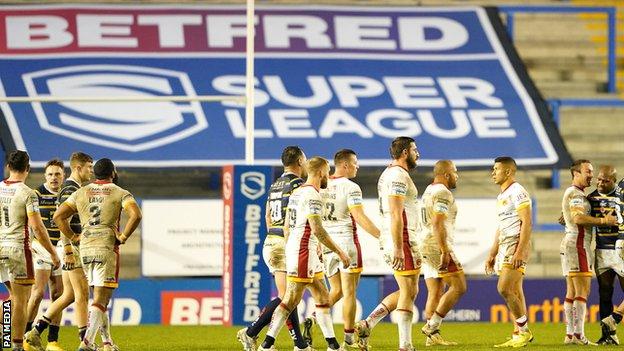 The Football Association welcomed the announcement and said it would "await further detail of the eligibility, application process and timelines from Sport England" before it was able to advise leagues and clubs.
"A number of clubs from across the football pyramid have been greatly affected by the pandemic and this financial package will provide vital assistance for them during this challenging period," the FA statement said.
Chief executive officer Bill Sweeney said the Rugby Football Union was grateful for the "much-needed support" and that the organisation would work with the government to find the "appropriate balance between loans and grants" for the different areas of the sport.
Boxing did not receive any funding and Olympic gold medallist Luke Campbell said the sport has to "come together to fight this" and "get the funding it needs to survive at all levels".
"We would welcome the opportunity to have a grown-up conversation with someone involved in the decision making of this to see how we can get financial help for boxing and hopefully move the sport up the pecking order," he added.
BBC Radio 5 Live boxing analyst Steve Bunce said the sport "expected" and "deserved" £2m-4m of funding and missing out means "thousands of boxers denied, hundreds of gyms left struggling".
Kat Ratnapala, director of netball at Saracens Mavericks, told BBC Radio 5 Live that the funding would help her club compete in next season's Superleague, starting in February.
"It's been a tough year for us, financially, to make ends meet," she said. "We set up a funding page just so we could come through the first Covid lockdown. It's a loan and we need to pay that back eventually.
"We're definitely not out of the woods, but it's a bit of breathing room so that we can get back on to court at least and get a full season under our belts."
Adrian Christy, Badminton England's chief executive, said the funding could help stave off the threat of job losses in the organisation.
"Since the start of the pandemic, Badminton England has lost more than £2.2m in income," he told BBC Radio 5 Live. "The £2m award will help significantly towards closing the gap.
"It ensures the Yonex All-England Championships can take place - it's the biggest event on the world tour and a qualification event for the Olympics.
"The operation of the organisation also needs the support with 25% of our staff at risk of redundancy - we hope we can save some jobs as a direct consequence. And also, we repurposed Sport England's money from the outset for our survival. That money was taken away from the grassroots."
British Horseracing Authority chief executive Nick Rust praised members of his team for presenting their case to government and officials.
"The support for racing recognises the sport's position as the second biggest spectator sport in the UK and the financial peril faced by the tens of thousands who depend upon racing for their livelihoods," he said.
"The BHA team work tirelessly to protect the interests of racing. While advancing the case for financial support, they have also helped to ensure the sport continues behind closed doors, with owners present, and supported the efforts to get spectators back. I am very proud of all they are achieving."
Swimming missed out on the funding and Swim England chief executive Jane Nickerson stressed aquatic sports are also "fighting for survival" and need to be supported.
"It's encouraging to see support being provided for those organisations who have lost their major spectator income - now what I would like to see is any further government investment focused on sports that have missed out on this package but have also been severely impacted by coronavirus restrictions," she said.
"While we may not be classed as a major spectator sport, swimming is one of the biggest participation sports with 14 million adults swimming in 2019."