Coronavirus: British sporting events to continue as normal, says Culture Secretary Oliver Dowden
Last updated on .From the section Sport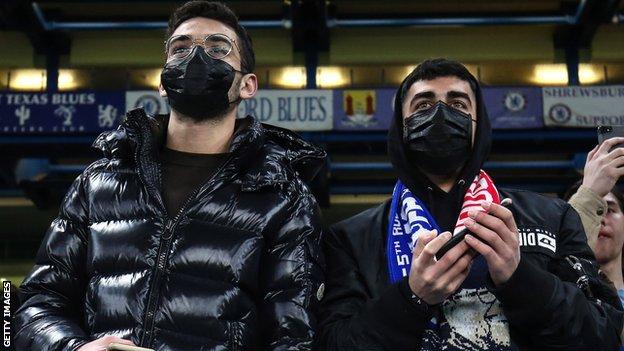 Sporting events in Britain are unlikely to be affected by coronavirus in the immediate future, says Culture Secretary Oliver Dowden.
Governing bodies and broadcasters will meet with government officials later on Monday to discuss the staging of events behind closed doors if the outbreak worsens and mass gatherings are banned.
Dowden told BBC Radio 5 Live: "At this stage we're not in the territory of cancelling or postponing events."
He added fans should not be barred.
"I was at Twickenham [for England v Wales] with the Prime Minister [on Saturday]," he said. "There was a huge crowd of people there. There is no reason why people should not be going to those events. It is very premature to be talking about things like that."
Dowden did add that the advice was based on the current guidance issued by the medical experts.
He added: "That is why I asked the chief medical officer to brief the sporting bodies last week and that is why we will be driven by the advice of the chief medical officer as we continue.
"I do want to emphasise in relation to sporting events, any talk of cancellation is very premature indeed. At the moment there is no evidence to suggest we should be doing that and we don't have any plans to."
However, Andy Holt, the owner of League One side Accrington, said he was concerned about the current situation and that consideration should be given to pausing the football season.
"I think we need to get on top of it," he told BBC Radio Four's Today programme, and added there would be "long-term financial ramifications" for his club if fans contracted the disease.
"I would be considering pausing the season until we know exactly where this is going and get a grip on it.
"I am walking round our club at the weekend and there are 3,000 fans there - I am worried that inviting them altogether at our place is actually putting them in danger."
Three people have died in Britain from the virus so far and 278 people have tested positive as of Sunday.
Italy has ordered all major sporting events throughout the country to be played without fans for one month in a bid to curb Europe's worst coronavirus outbreak, while the upcoming Italy v England Six Nations match in Rome has been postponed.
It was also announced on Sunday that fans will not be allowed to attend this month's Bahrain Grand Prix because of the outbreak.
Within football's Premier League there is a growing expectation that matches may have to be played behind closed doors within the next two weeks, depending on government advice.
Attendees are due to discuss logistics and feasibility as well as contracts and rights considerations.
The Premier League and EFL said pre-match handshakes between both teams and officials will not take place until further notice because of fears over the spread of coronavirus.
The measure came after the government asked the Premier League "to step up its contingency planning".
Several clubs have instructed players not to sign autographs or take selfies with fans.
On Sunday, European football's governing body Uefa told players and officials not to carry out pre-match handshakes in all its competitions until further notice.
IOC steps up coronavirus advice
The International Olympic Committee (IOC) has stepped up its advice to sports federations on how to deal with the coronavirus.
In a letter seen by the BBC, the organisation's sports director Kit McConnell has written to the bodies to offer "further support".
Earlier this week, after an executive board meeting in Lausanne, IOC President Thomas Bach insisted he was confident this summer's Olympics in Tokyo would go ahead as planned.
McConnell tells the federations that the IOC is "committed to the success of Tokyo 2020".
And he says that "all potential solutions should be explored" if athletes are at risk of being prevented from competing in qualifying events.
"Keeping athletes informed remains critical in addressing the ongoing challenges of Covid-19," McConnell writes.
A host of Olympic qualifying events in a range of sports have been cancelled in recent weeks.
And some athletes from countries worst affected by the outbreak - such as China and Korea - have been barred from participating overseas because of travel restrictions or quarantine rules.
"If, despite all efforts, there is a significant risk to the full participation of teams or athletes in any Olympic qualification event... please bring this to our attention as early as possible and we will work with you to find appropriate solutions," McConnell tells the federations.
"In certain circumstances, there may be a need to review the current details of the qualification system.
"Where there may be health regulations or entry restrictions which could impact on athlete participation, all potential solutions should be explored.
"In some circumstances, we have seen permission being granted for exceptional entry for athletes from areas highly impacted by Covid-19 into countries hosting sporting events. We encourage you to explore possible solutions with your NF (national federation) and LOC (local organising committee)."
And in a sign of what athletes can perhaps expect at the Tokyo Games if they go ahead as planned, the international federations are told to work with local health authorities "to organise ongoing health screenings on site, including a temperature check for athletes and entourage upon arrival, pre-competition and during competition, and carry out Covid-19 tests for those individuals arriving from highly affected areas".
McConnell explains that other good practises include providing hand sanitisers and masks throughout the event, reminding athletes and entourage to maintain high levels of personal hygiene, including advice on hand washing and minimising physical contact, with increased medical personnel on site.