Coronavirus: Six Nations games under threat and five Serie A matches to be played behind closed doors
Last updated on .From the section Sport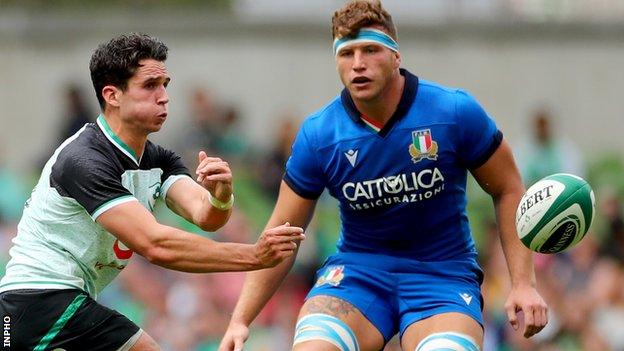 Ireland's Six Nations game against Italy in Dublin on 7 March should be postponed because of the coronavirus situation, says Irish Health Minister Simon Harris.
Eleven people have died in Italy and more than 300 tested positive for the virus, while 11 towns are in lockdown.
"This game should not go ahead," Harris told Irish broadcaster RTE.
He said he would be meeting with the Irish Rugby Football Union (IRFU) on Wednesday morning.
Six Nations organisers have said they are "monitoring very closely" the coronavirus situation.
Chairman of World Rugby Bill Beaumont told BBC Radio 4's Today programme: "I think what we have to do is listen to all the experts. We have to err on the side of caution when people's lives are at risk."
Asked how a postponement would affect the climax to this year's Six Nations, Beaumont pointed to the 2001 tournament which saw games delayed until September and October because of an outbreak of foot-and-mouth disease in the UK.
"It will be an issue to fit it in the calendar obviously because the calendar is extremely condensed," added Beaumont.
This weekend five Serie A matches will be played behind closed doors - including Juventus' match at home to Inter Milan - because of the outbreak.
Meanwhile, Formula 1 team Ferrari says it has taken measures to limit the impact of the outbreak.
Italy's Six Nations matches under threat
Harris said the game against Italy "should not go ahead".
"We've taken a decision in relation to the Ireland-Italy rugby game which was due to be held in Dublin on 7 March," the minister said.
"The very clear view of the Public Health Emergency team is that this game should not go ahead, that it would constitute a significant risk because a very large number of people would be travelling from what is now an affected region.
"I know it will come as a great disappointment to many but it is important we make decisions in relation to public health above and beyond all other considerations."
Italy's men's and women's teams are due play in Ireland in two weeks before hosting England in the final round.
Scotland women's match in Italy on Sunday was called off and is yet to be rearranged.
In a statement, the IRFU said: "Until such time as the IRFU has had contact with the minister and gets an understanding of the government's strategic policy on travel to and from Ireland and the cancellation of mass gatherings, it is not in a position to comment further."
"Six Nations is aware of today's recommendation from the Irish Health Minister," a statement from the organisers said.
"The IRFU has sought an urgent meeting with the Irish Government to discuss the matter further and we will remain in close contact with them regarding the outcome of those discussions."
A spokesperson for the Italian Rugby Federation (FIR) said that if government advice changes it would consider moving the women's team's next training camp, which is scheduled to take place in Parma, just south of the at-risk Lombardy and Veneto regions.
Serie A takes action
The Serie A schedule this weekend has been disrupted because of coronavirus.
Matches at Udinese, AC Milan, Parma and Sassuolo will take place without fans.
Games at Lazio, Napoli, Lecce and Cagliari will go ahead with supporters as normal, but Sampdoria's match on Monday is yet to be decided upon.
Inter's Europa League last-32 home match against Ludogorets on Thursday will also be played behind closed doors because of fears about the possible spread of the virus.
Inter were one of four Serie A clubs to postpone their games last weekend.
Serie A fixtures to be played behind closed doors: Juventus v Inter (Sun, 19:45 GMT); Udinese v Fiorentina (Sat, 17:00 GMT); AC Milan v Genoa (Sun, 11:30 GMT); Parma v Spal (Sun, 14:00 GMT); Sassuolo v Brescia (Sun, 14:00 GMT)
Serie A matches to be played with fans: Lazio v Bologna (Sat, 14:00 GMT); Napoli v Torino (Sat, 19:45 GMT); Lecce v Atalanta (Sun, 14:00 GMT); Cagliari v Roma (Sun, 17:00 GMT)
Still to be decided: Sampdoria v Hellas Verona (Mon, 19:45 GMT)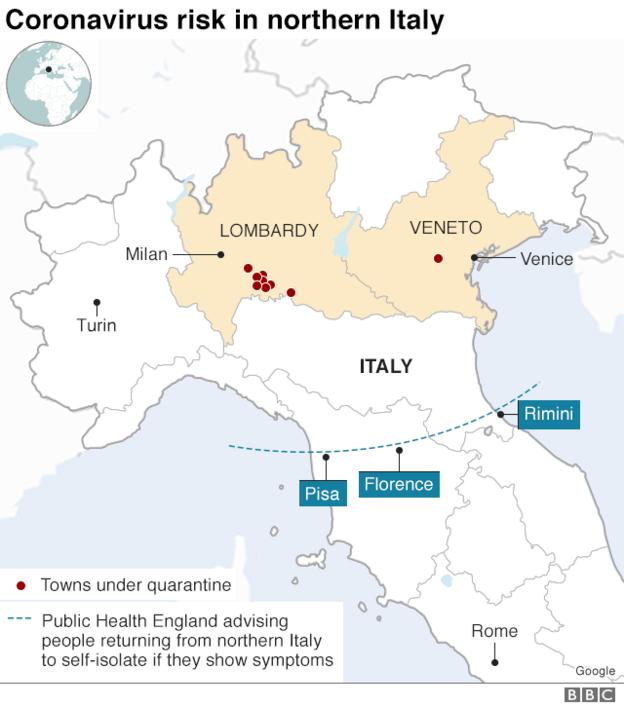 Ferrari takes measures
Ferrari has closed its museums in Maranello and Modena, while all external visits and all non-critical business travel have been stopped.
But the situation is so far not directly affecting the Ferrari race team's preparations for the new Formula 1 season.
Ferrari personnel flew to Spain on a chartered jet on Tuesday in preparation for the final pre-season test, which starts in Barcelona on Wednesday.
"The situation is being monitored closely. New measures will be promptly implemented and communicated should they become necessary," the team said.
The Chinese Grand Prix, which had been scheduled for 17 April, has already been postponed as a result of the coronavirus outbreak while there are questions surrounding other early-season races.
A spokesman for F1 said the sport will continue to monitor the global situation but that there were no plans "at the moment" to postpone further races.
In horse racing, an industry steering group has been set up to look at potential implications but there is currently no threat to next month's Cheltenham Festival.
The Vietnam International Challenge badminton event, an Olympic qualifier, was shifted from late March to early June, the Badminton World Federation said on Tuesday. That event was due to take place a week before the Vietnam Grand Prix.
Concerns about the spread of the virus in the Middle East have heightened following an outbreak in Iran, which has officially reported 95 cases.