Tokyo 2020: Fourteen sports to get funding boost from Aspiration Fund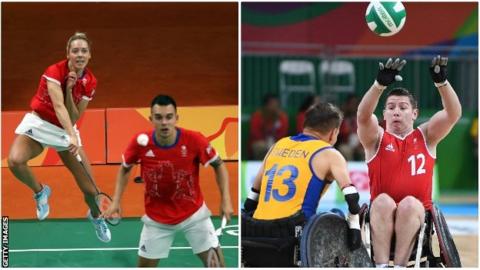 Fourteen Olympic and Paralympic sports have received investment from the new £3m Aspiration Fund to help support their ambitions for Tokyo 2020.
The government-backed Aspiration Fund was announced in October this year and aims to support those sports which do not receive full UK Sport funding.
The sports to benefit are archery, artistic swimming, badminton, beach volleyball, climbing, fencing, goalball, karate, skateboarding, softball, surfing, table tennis, weightlifting and wheelchair rugby.
Sports Minister Mims Davies said: "The Olympic and Paralympic Games are the pinnacle for athletes across the world.
"This £3m fund will give more athletes in more sports the chance to compete at the very top in Tokyo.
"It will help Great Britain and Northern Ireland continue to be a leading Olympic and Paralympic nation and I am sure the athletes that will benefit will inspire the nation and help their sports grow."
Great Britain won 67 medals, including 27 golds, at the 2016 Olympics and 147 medals, including 64 golds, at the 2016 Paralympics.
Liz Nicholl, chief executive of UK Sport, added: "This new Aspiration Fund is a fantastic opportunity for these athletes and sports to get on track for the Tokyo Games.
"Many of the sports we are currently unable to support, while further away from reaching the podium, have the potential not only to inspire through their performances on the field of play but also to inspire new audiences to engage in sport and activity.
"We'd like to thank the government for their continued support for UK Sport's mission to inspire the nation through Olympic and Paralympic success."
How much will each sport get?
The following table includes the breakdown of investments, less the costs of running the programme.
| Sport | Award amount | Sport | Award amount |
| --- | --- | --- | --- |
| Archery | £192,500 | Artistic swimming | £192,500 |
| Badminton | £259,679 | Beach volleyball | £68,750 |
| Climbing | £192,500 | Fencing | £192,500 |
| Goalball | £125,000 | Karate | £68,750 |
| Skateboarding | £166,825 | Softball | £62,500 |
| Surfing | £192,500 | Table tennis | £275,000 |
| Weightlifting | £192,500 | Wheelchair rugby | £500,000 |
| Unallocated funds* | £118,496 | | |
*£118,496 will be held by UK Sport to consider investments for sports to attend qualification events where appropriate, e.g. women's basketball.