UK Sport: Athlete welfare issues disturbing - outgoing chief executive Liz Nicholl
Last updated on .From the section Sport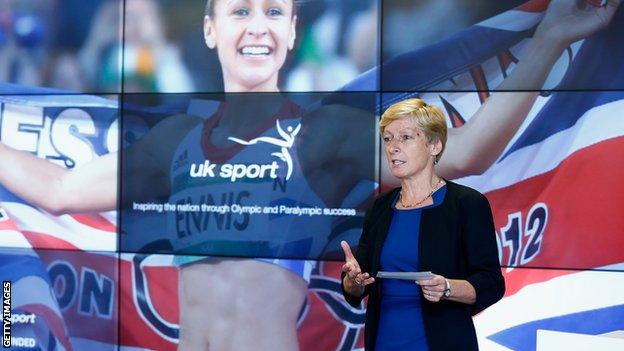 Issues concerning athlete welfare were a "disturbing and uncomfortable" period of her reign, outgoing UK Sport chief executive Liz Nicholl has told the BBC.
Since her allegations, several British sports bodies have experienced controversy around duty of care issues.
Nicholl said the need for athletes' voices to be heard had led to UK Sport's Culture Health Check report.
Almost 700 athletes responded with their views on how they were treated.
Varnish was dropped from British Cycling's elite programme in 2016.
When former technical director Shane Sutton was subsequently found to have used sexist language towards her, it prompted an independent review of the organisation.
Speaking to BBC sports editor Dan Roan, Nicholl said she had "no regrets" about her eight years in charge of UK Sport. But she added: "There was that very disturbing period when the British Cycling independent review had to be conducted and concerns about the voice of athletes being heard, growing awareness that the athletes' voice wasn't being heard in sports and needed to be heard.
"There was a period that felt very uncomfortable."
Nicholl, who will step down next summer after eight years, added: "But what I'm proud of is that we responded by doing the right thing in a number of areas of work that we've taken on board and activated - not least, cultural health checks are now conducted across all the sports to drive positive change and be athlete focused on a day-to-day basis."
Speaking about Varnish's lawsuit - with a hearing scheduled for 10 December - Nicholl denied it had played a part in her decision to step down, but said: "We will learn from this regardless of whether we win or lose."
If Varnish's lawyers successfully argue that she should have had employee status, the case could have major ramifications for all contracted British athletes who are funded by UK Sport.
UK Sport might have to pay Varnish backdated pension and national insurance costs. This is currently avoided because athletes are not regarded as members of staff. Other athletes might then pursue legal action themselves.
"Our approach to supporting athletes has been similar to a student grant - a performance award that enables them to train - with no pay-back from that," said Nicholl.
"There are other professional sports that actually have central contracts so there are two ways of doing this. The test of this case is whether the way Jess was supported constituted an employment status, so whatever the outcome we will review - as part of our future strategy - how we best support athletes and our relationship with athletes.
"Obviously we may be forced to change some things but regardless of that we will absolutely look at what is the best relationship we can have that's right for them and for the system of public funding to get the best results in the future."
Overseeing a period of success
Having joined UK Sport three years after Britain picked up just one gold medal at the Atlanta 1996 Olympics, Nicholl oversaw Team GB's record haul of 67 medals at Rio 2016 - 27 of which were gold.
"We can see elements of what we do that can be even better," she said.
"We won't be first in the medal table in 2024 as the gap between us and the US is enormous, but we have more sports now that know how to win medals and more sports that know how to win gold medals."
A number of sports have lost UK Sport funding for the 2020 Olympics in Tokyo, including badminton, archery, fencing, weightlifting and wheelchair rugby. That has been largely driven by a fall in the National Lottery money available to the agency, with fewer people playing it.
Cycling - which brought Team GB 12 medals in Rio - has had its funding cut by more than £4m to £25.98m.
"After Rio there were more sports that had no funding," said Nicholl. "Our board then said this for us is the tipping point, it can't be any deeper than that. Even to fund the sports we are funding now we have to have a government underwrite it."
UK Sport recently launched a £3m Aspiration Fund in a bid to help more athletes compete at the Tokyo Games who compete in unfunded sports, including skateboarding and surfing, which will make their debut in 2020.
Nicholl said the fund was a "pilot", adding: "We will learn from it, whether it can be embedded into a future strategy."