Wada to open new probe into alleged bullying after Ed Moses' criticism

By Dan Roan
BBC sports editor
Last updated on .From the section Sport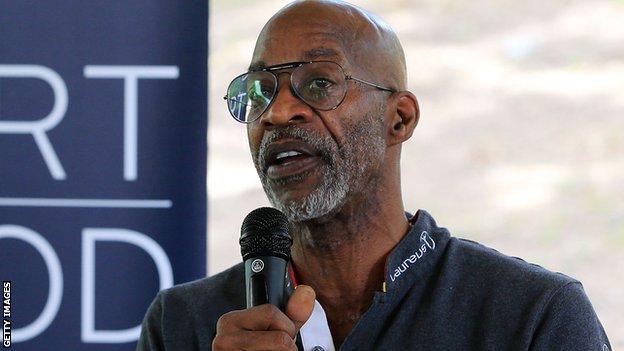 The World Anti-Doping Agency will open a "second phase" of its independent review into bullying allegations revealed by the BBC last month after initial findings "did not conclude that alleged bullying had taken place".
Wada said it appointed an external firm to review executive committee meeting transcripts and minutes after the chair of its athletes committee Beckie Scott told BBC Sport she was "treated with disrespect" and faced "inappropriate" comments.
Former Olympic champion and chairman of the US Anti-Doping Agency Ed Moses said that response was "insufficient on numerous levels".
But after a meeting in Baku on Wednesday, Wada said independent experts would now "interview the many people present at the meeting so that the matter could be concluded satisfactorily".
It added: "This will now take place and a further report will be presented to the executive committee at the next opportunity."
Moses - who won gold in the 400m hurdles at the 1976 and 1984 Olympics - has backed Scott's claims, saying he has also been subject to denigrating behaviour.
But Wada's executive committee rejected calls for a wider investigation into its culture.
It said it "did not conclude it was merited at this time based on the information at its disposal. However, it was concluded that legal advice be sought by the agency to help in determining a path forward.
"Wada continues to take these matters very seriously."
Moses' letter highlights 'denigrating conduct'
In a letter seen by the BBC, Moses told Wada president Sir Craig Reedie that "dozens of governments and other stakeholders" now wanted an independent investigation into allegations of "a culture of intimidation".
That followed claims by Canadian Scott, the chair of Wada's athlete committee, who told the BBC that some of the organisation's most senior officials tried to "bully and belittle" her after she opposed Russian reinstatement at a meeting.
Wada denied the claims, insisting there had merely been "heated discussion", but after agreeing a second phase, that stance appears to have shifted.
Moses has written to Wada's leadership to express his "deep concern that this narrow response to widespread calls for an independent investigation into bullying and the culture at Wada is insufficient on numerous levels".
Moses - who is also chair of Wada's education committee - said he had experienced "the marginalisation, lack of respect and denigrating conduct which Beckie described".
And he highlights how an independent investigation is now desired by the representatives of European governments, and 18 national anti-doping organisations.
In his letter he writes: "This conduct…is typically not captured in the meeting minutes and cannot be understood merely from transcripts of the official meetings…Full understanding can only be achieved by broadening the scope of the investigation.
"The suppression of debate and the athlete voice does not appear to be limited to public meetings…it is important therefore that the inquiry extend to whether Wada management has fostered and facilitated an open environment…"
He added that the "process has not been transparent, calling into question its legitimacy" and that "the scope of review appears to have been dramatically artfully truncated from what has been requested by Wada's stakeholders".
Meanwhile, the founding president of Wada - Dick Pound - has accused Usada and the UK Anti-Doping Agency of being "out of line" and trying to act as "heirs apparent" to the global watchdog.
Pound told the Evening Standard the agencies were "out of control" after they called for urgent reform of Wada in the wake of the Russian doping scandal.