Stan Lee: How Spider-Man & Black Panther creator influenced the sporting world
Last updated on .From the section Sport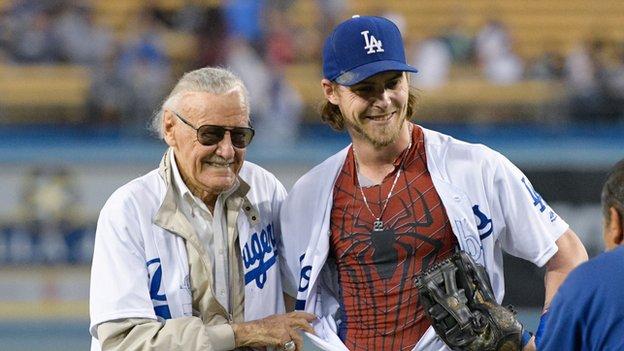 Stan Lee, the American writer and former president of Marvel Comics, died on Monday at the age of 95.
Lee had a hand in creating some of most recognisable comic book heroes of the 20th century, including Spider-Man, The Incredible Hulk and Thor, and went on to become a recognisable presence in this century's Marvel film franchises, famous for his on-screen cameos.
His work resonated with people of all ages around the globe and, as a result, his influence spread to the sporting world too.
Here are some sporting moments we would never have had without Stan Lee.
Spiderman celebrations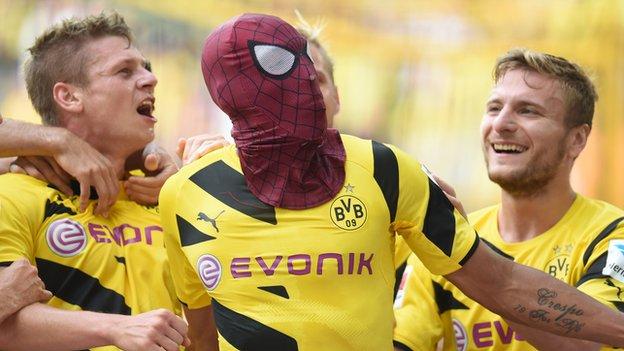 The matches between Borussia Dortmund and Bayern Munich are a big deal.
Bayern are seen by some as the Thanos of Germany, with their huge financial power, coupled with their domestic and European success, making them a force to be reckoned with. Dortmund (along with the rest of Bayern's opponents) have been often left saying they "don't feel so good".
So when Bayern signed Robert Lewandowski from Dortmund in 2014, the Yellow Wall needed to find a new hero - step forward Pierre-Emerick Aubameyang.
In the clubs' first meeting after Lewandowski left, the Gabon striker scored in a 2-0 German Super Cup victory for Dortmund, putting on a Spider-Man mask to celebrate in front of a packed out Westfalenstadion.
It wasn't his first time dressing up as Spider-Man. Aubameyang had previously celebrated with the mask while at French side Saint-Etienne, as a tribute to les verts goalkeeper Jeremie Janot.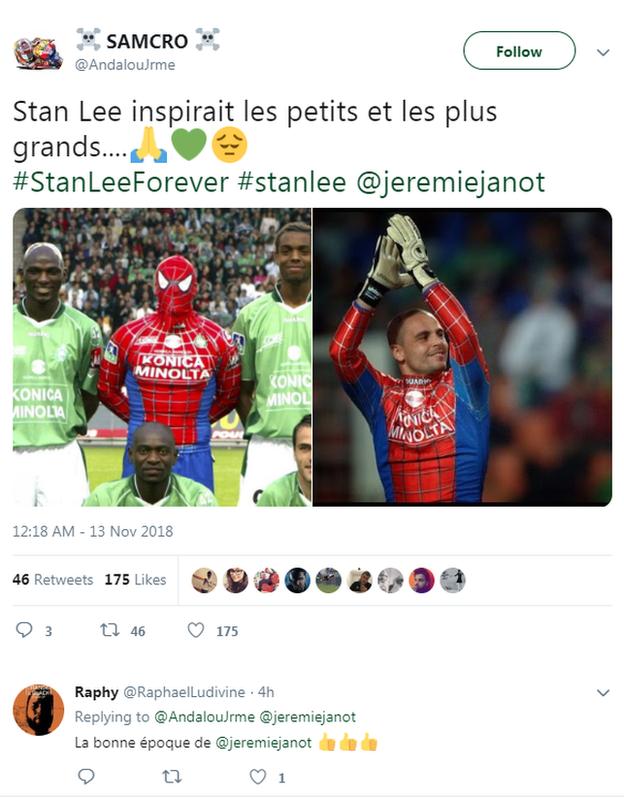 "When I was younger, he came out on to the pitch in the full Spider-Man suit and played in goal. It was crazy!" said Aubameyang.
Aubameyang and Janot are not the only ones to take their love of Spider-Man on to the pitch.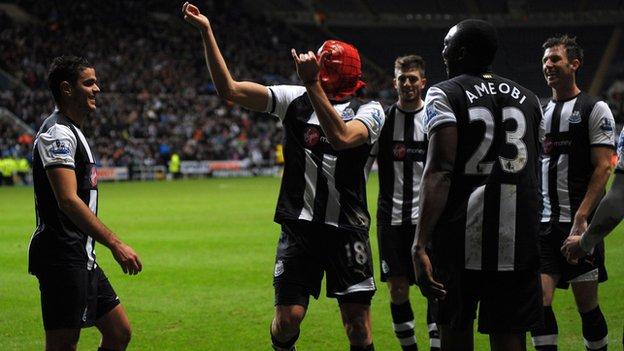 Former Newcastle winger Jonas Gutierrez and Hertha Berlin's Anis Ben-Hatira have also been known to celebrate a goal as Peter Parker's alter ago.
The Brazilian Hulk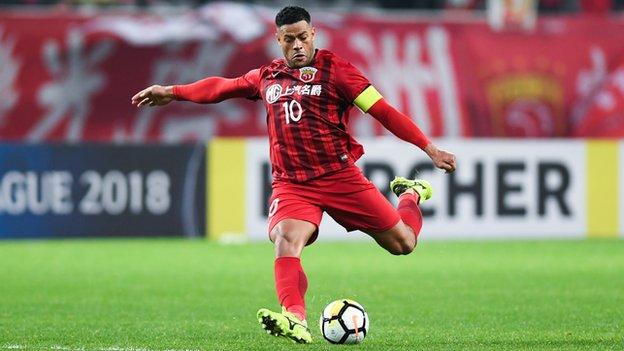 Do you remember Brazilian forward Givanildo Vieira de Sousa? Probably not. What about Hulk?
Now playing for Chinese side Shanghai SIPG, former FC Porto and Zenit St Petersburg man Hulk was given his nickname because of his likeness to actor Lou Ferrigno.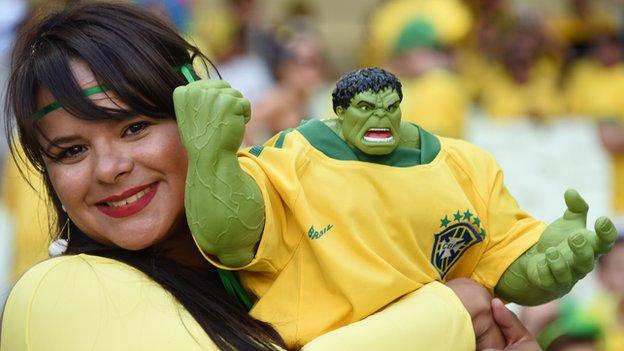 Ferringo played The Incredible Hulk - another character from Lee's stable - in the US television series produced between 1977 and 1982.
'Wakanda forever'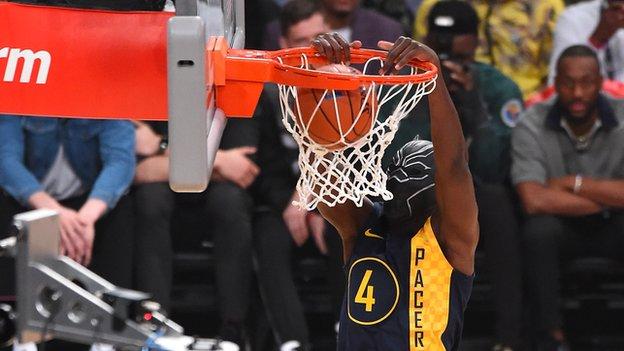 In 2018, Marvel released Black Panther, starring Michael B Jordan and Chadwick Boseman.
Based on Lee's comic, the film celebrated African culture and made a big impact on the sporting stage.
NBA star Victor Olipado competed in the All-Star weekend's Slam Dunk Contest while wearing the famous Black Panther mask.
One of the film's standout quotes, "Wakanda forever" - referencing the fictional, hidden country where part of the film is set - and the Wakanda salute have crossed over, too.
If you don't know what that looks like, here are Jesse Lingard and Paul Pogba to show you...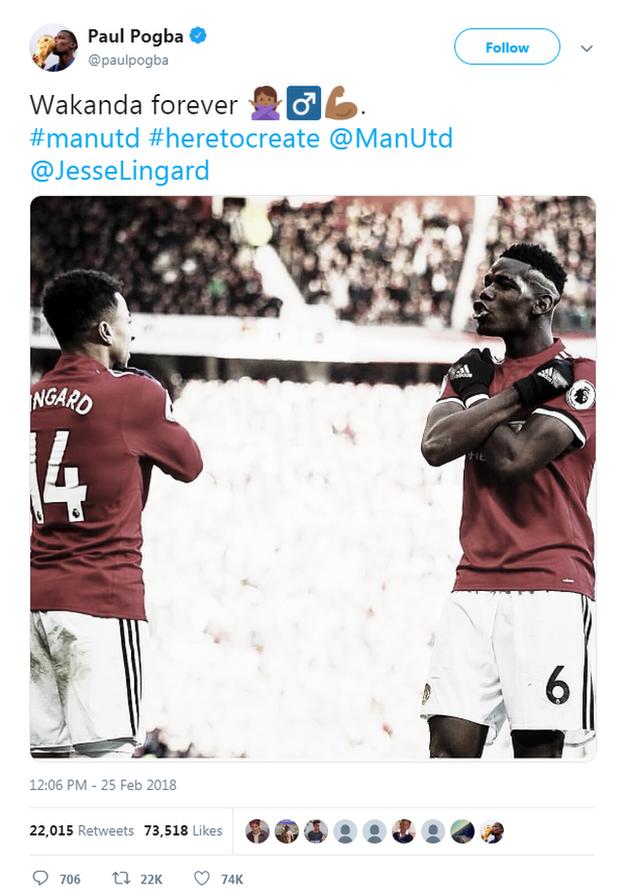 Atletico Madrid's Spider-Man 2 kit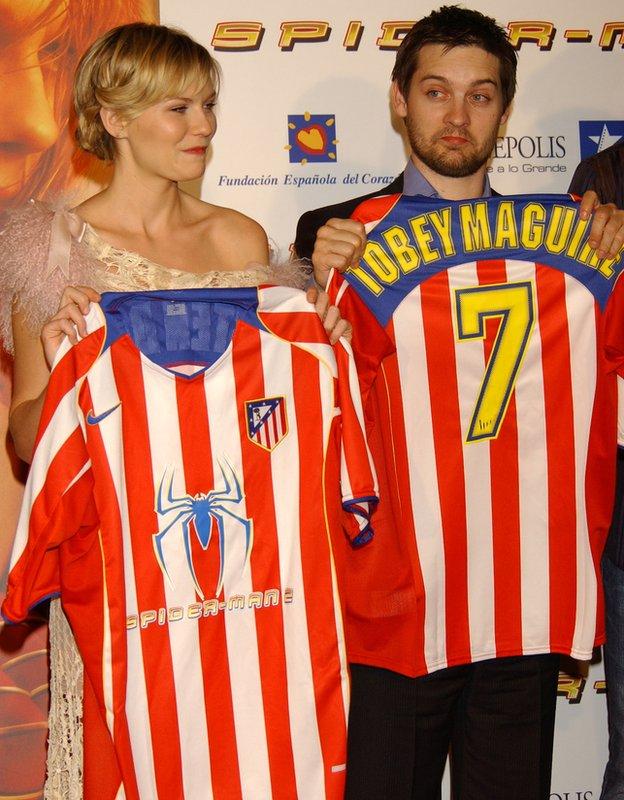 Before the release of Spider-Man 2 movie in 2004, Atletico Madrid agreed a sponsorship deal with Hollywood studio Columbia Pictures, which allowed them to change their sponsor every time a new movie came out - hence the Spidey-themed sponsor.
The kit was worn by the club in an official match - with Fernando Torres running about in it - and the film's stars Tobey Maguire and Kirsten Dunst were given their very own personal kit. Maguire looks pretty chuffed with it too.
So Stan Lee may be gone, but his creations have made a huge impact on the world of sport, and probably will continue to do so long into the future.