Harry Redknapp: Jungle japes show reality TV and sport are match made in heaven
Last updated on .From the section Sport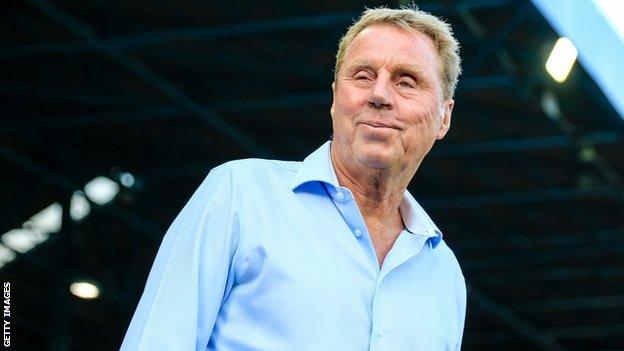 When I'm a Celebrity... Get Me Out of Here first appeared on our screens in 2002, we probably all thought the same thing: 'What a mouthful!'
But, 17 series later, the programme's name now rolls off the tongue, and every autumn huge audiences tune in.
The announcement of the contestants for this year's ITV show, which starts on Sunday, gives sports fans more reason than ever to tune in. Two words - Harry Redknapp.
Yes, the former Tottenham manager - who admits to never having watched an episode - has signed up to live among the creepy crawlies just for our entertainment. And maybe - as reportedly the highest-paid contestant - a few quid too.
Southampton - one of his former clubs - got the banter bandwagon rolling, suggesting he may 'jump ship' to the BBC's hit show Strictly Come Dancing - a reference to the controversial move Redknapp made in 2005 when he left the Saints for arch-rivals Portsmouth.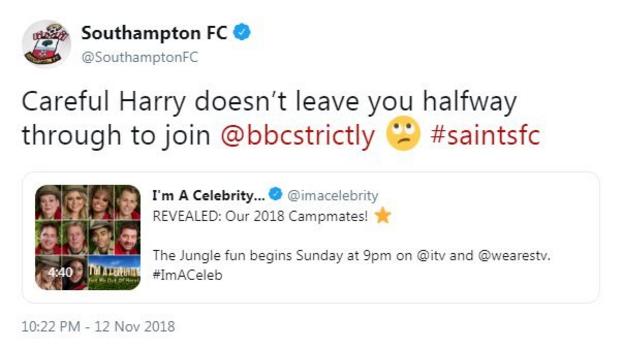 How he will get on in the jungle is anyone's guess, but it inspired us to look at how sports personalities have fared on TV's two biggest reality shows - I'm a Celeb and Strictly.
The winners
Four-time World Superbike champion Carl Fogarty was the most recent sporting King of the Jungle.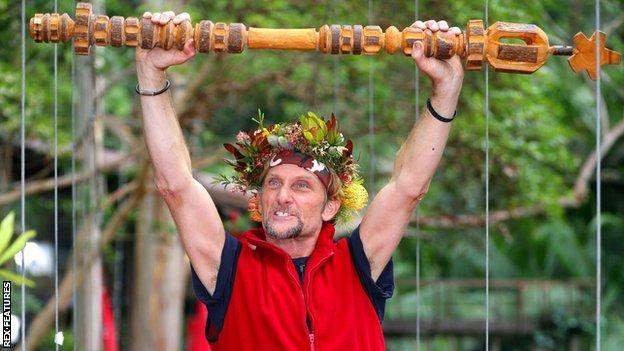 Foggy won the nation's affections in 2014 with his no-nonsense approach to the Bushtucker Trials, completing seven gruelling tasks.
The motorcyclist was a popular guy in camp - and no wonder, with his remarkable record for collecting meal tokens - he snaffled 43 stars out of 43.
Fogarty beat singer (and former Ossett Town footballer) Jake Quickenden in the final.
Eleven years earlier, cricketer Phil Tufnell beat former Wimbledon footballer and Gladiators presenter John Fashanu in the final.
The former England spinner is no stranger to reality TV, having also been a contestant on Strictly's seventh series.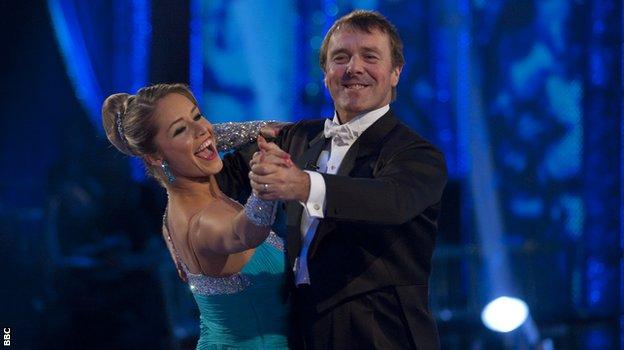 The others - memorable moments
Notable sporting names to have graced the jungle include 18-time Grand Slam singles tennis champion Martina Navratilova (runner up, 2008), former world heavyweight boxing champion David Haye (third, 2012), and Olympic swimming champion Rebecca Adlington (eliminated seventh, 2013).
Who could forget the moment last year when the cheeky, chuckling duo of boxer Amir Khan and radio presenter Iain Lee decided to eat a plate of strawberries and cream rather than share them with their starving campmates? Naughty.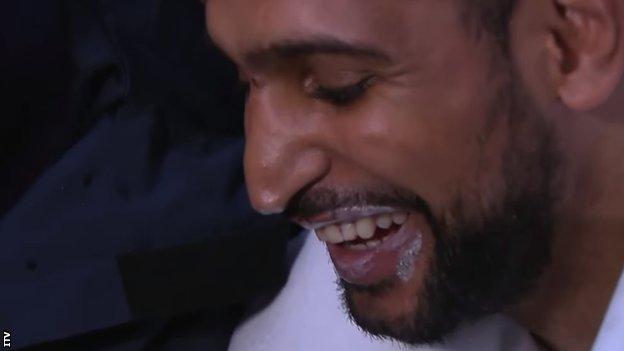 Elsewhere, Steve Davis was snookered while trying to psyche himself up for a Bushtucker Trial in 2013.
The six-time world snooker champion fell into a murky-looking lake while jogging on the spot, leaving hosts Ant and Dec in fits of giggles.
But that paled in comparison to the awkward ordeal of former javelin world champion Fatima Whitbread, who had a live cockroach stuck up her nose.
She eventually managed to free the critter with the help of camp medic Bob - and kept the little fella in a bottle as a memento of the nightmare moment.
And what about Strictly?
From playing ball to the ballroom, Strictly has a strong sporting back story.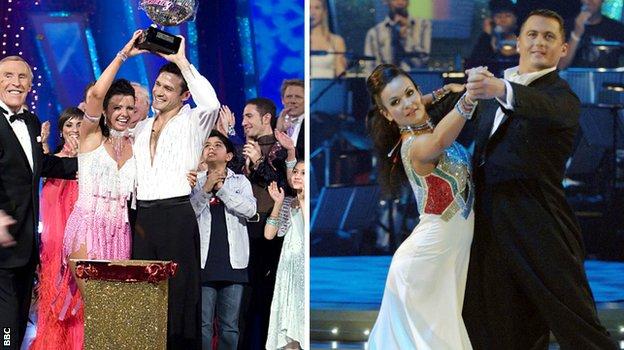 With Graeme Swann currently tearing up the dance floor, it's worth remembering cricket has pitched up with two winners - Darren Gough and Mark Ramprakash.
Olympic gymnasts Louis Smith and Claudia Fragapane have also taken part, with the former taking home the trophy in 2012 and the latter making it to the semi-final.
Boxers Joe Calzaghe, Audley Harrison and Anthony Ogogo have fought for good scores, but failed to prove a knockout with the judges.
Rugby union has provided two runner-ups - former England stars Matt Dawson and Austin Healy- with Healey boasting the highest average score of any athlete to take part - 34.5 out of 40.
Strictly Come Dancing

I'm A Celebrity

2003:

Martin Offiah (rugby league) - out week six

2002:

Nigel Benn (boxing) - out second

2004:

Denise Lewis (athletics) - runner-up; Roger Black (athletics) - wk 6

2003:

Phil Tufnell (cricket) - winner; John Fashanu (football) - runner-up

2005:

Darren Gough (cricket) - winner; Colin Jackson (athletics) - runner-up; Dennis Taylor (snooker) - wk 5

2004:

Neil Ruddock (football) - out third; Diane Modahl (athletics) - out second

2006:

Mark Ramprakash (cricket) - winner; Matt Dawson (rugby union) - runner-up; Peter Schmeichel (football) - wk 7

2007:

Rodney Marsh (football) - out fifth

2007:

Kenny Logan (rugby union) - wk 9; John Barnes (football) - wk 8; Gabby Logan (gymnastics) - wk 4; Willie Thorne (snooker) - wk 3

2008:

Martina Navratilova - Tennis, runner-up

2008:

Austin Healey (rugby union) - runner-up; Andrew Castle (tennis) - wk 7; Mark Foster (swimming) - wk 6

2009:

Jimmy White (snooker) - third; Joe Bugner (boxing) - out fourth

2009:

Jade Johnson (athletics) - wk 10 (injury); Phil Tufnell (cricket) - wk 9; Joe Calzaghe (boxing) - wk 5; Richard Dunwoody (horse racing) - wk 2; Martina Hingis (tennis) - wk 1

2010:

Linford Christie (athletics) - out sixth

2010:

Gavin Henson (rugby union) - wk 11; Peter Shilton (football) - wk 4

2011:

Fatima Whitbread (athletics) - third; Willie Carson (horse racing) - out eighth

2011:

Robbie Savage (football) - wk 10; Audley Harrison (boxing) - wk 7

2012:

David Haye (boxing) - third; Eric Bristow (darts) - out eighth

2012:

Louis Smith (gymnastics) - winner; Michael Vaughan (cricket) - wk 9; Victoria Pendleton (cycling) - wk 8

2013:

Rebecca Adlington (swimming) - out seventh; Steve Davis (snooker) - out fifth

2013:

Ben Cohen (rugby union) - wk 9; Tony Jacklin (golf) - wk 1

2014:

Carl Fogarty (motorsport) - winner; Jimmy Bullard (football) - out first

2014:

Judy Murray (tennis) - wk 8; Thom Evans (rugby union) - wk 5

2015:

Kieron Dyer (football) - out eighth; Chris Eubank (boxing) - out fourth

2015:

Anthony Ogogo (boxing) - wk 3; Iwan Thomas (athletics) - wk 2

2016:

Sam Quek (hockey) - out ninth; Wayne Bridge (football) - out eighth

2016:

Claudia Fragapane (gymnastics) - wk 12; Greg Rutherford (athletics) - wk 9

2017:

Amir Khan (boxing) - out seventh; Dennis Wise (football) - out sixth

2017:

Jonnie Peacock (athletics) - wk 9

2018:

Harry Redknapp (football)

2018:

Graeme Swann (cricket); Lauren Steadman (triathlon)