Liz Nicholl: UK Sport chief executive to step down after eight years
Last updated on .From the section Sport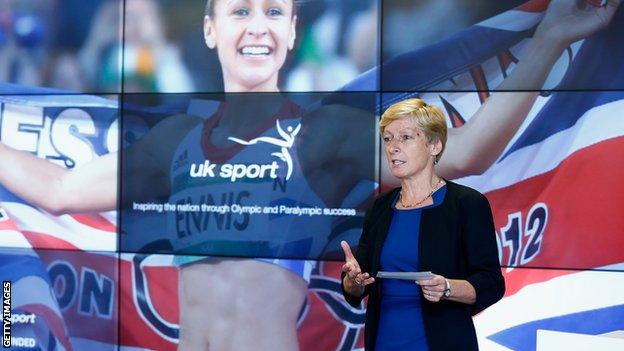 Chief executive of UK Sport Liz Nicholl is to step down next summer after eight years in the role.
Nicholl joined the organisation as director of elite sport in 1999, two years after its establishment, and was made CEO in September 2010.
Her 20-year career at UK Sport has spanned 10 Olympic and Paralympic Games, including London 2012.
"This really is the best job in sport and I have enjoyed every minute of it," she said.
"My successor will find British sport in a good position to realise our vision of inspiring the nation in Tokyo and beyond."
In her 20 years in post, 863 medals have been won by British athletes at the summer and winter Olympic and Paralympic Games.
Having joined three years after Britain picked up just one gold medal at the Atlanta 1996 Olympics, Nicholl oversaw Team GB's record haul of 67 medals at Rio 2016 - 27 of which were gold.
"I have shared a very special journey with everyone that has been part of our very successful high performance system over the past 20 years," she added.
"Our athletes are undoubtedly among the very best prepared and supported in the world, and I am confident that we can continue to build on the successes of recent Games."
Led by Nicholl, UK Sport also played an integral part in bringing the IAAF World Championships to London in 2017, as well as two Tour de France Grand departs' and stages.
She has decided to step down from the role to focus on her family and other interests, and the search for her successor will begin immediately.
"I cannot thank Liz enough for everything she has done for British sport in her time here," said Dame Katherine Grainger, chair of UK Sport and five-time Olympic rowing medallist.
"We must never forget the transformation that has occurred under her guidance, nor take for granted how many people, myself included, who have been able to realise their potential because of her tireless work.
"She is an incredible leader, principled and consistent, while also being able to seek compromise and collaboration. The spirit of resilience and good humour has seen Liz through countless challenges and her infectious enthusiasm has only increased over the past 20 years."
Analysis
BBC sports editor Dan Roan
This marks the end of an era.
After the departures of Tracey Crouch as Sports Minister and Jennie Price as head of Sport England this year, UK Sport's changing of the guard continues.
As the supremo of an organisation that has invested billions of pounds of public funding into governing bodies' high-performance programmes, Liz Nicholl has arguably been the most powerful figure in British sport since 2010.
Her tenure has coincided with the country's remarkable emergence as an Olympic and Paralympic powerhouse, renowned for winning medals and hosting international events.
In the last two years however, the former netball international's leadership has also come under unprecedented scrutiny. Amid a series of athlete-welfare and governance scandals at various governing bodies, there has been growing concern that UK Sport's emphasis on winning meant that duty of care was neglected.
Various crises at the best-funded and most heralded governing body - British Cycling - was particularly damaging, with many questioning UK Sport's lack of oversight.
Nicholl has always fiercely defended her organisation's no-compromise strategy of linking funding to medal potential. But there has also been mounting criticism from those sports that lost out on funding, and increased pressure for a new more flexible approach, which also considers sports' popularity when money is handed out.
These are the issues that Nicholl's successor will need go tackle, along with extending the most successful period in Britain's Olympic and Paralympic history and the challenge of future funding at a time when lottery ticket sales are likely to fall.
It is about as big a job as one can find in British sport, and there will be many who now believe a fresh approach is needed for the next stage of the country's sporting evolution.