Jordan Thomas: How salsa dancing helped GB's karate world champion fight back
By Nick Hope
BBC Olympic sports reporter
Last updated on .From the section Sport
2018 World Karate Championships
Dates:
6-11 November
Venue:
WiZink Centre, Madrid
Coverage:
All kata and kumite karate finals (10-11 November) will be streamed live on the BBC Sport website
"His thumb went right inside the eye and tore it open."
Jordan Thomas could be describing a particularly gruesome scene from his favourite horror movie, but this nightmare scenario became frightening reality for the British karate fighter last year.
The 26-year-old, who won World Championship gold in 2016, was competing against Dimitar Ilievski in the early stages of the 2017 European Championships in Turkey.
Thomas thought he had dodged a punch, only to be caught by the Macedonian's thumb.
"When it happened the adrenalin was pumping and I only wanted to carry on fighting, but the physio ended up dragging me out as my eye was swollen and in a bad way," Thomas told BBC Sport.
As he prepares to defend his world -67kg kumite title in Madrid on Wednesday, Thomas recalls his ordeal for the first time and tells BBC Sport how salsa dancing helped his psychological recovery.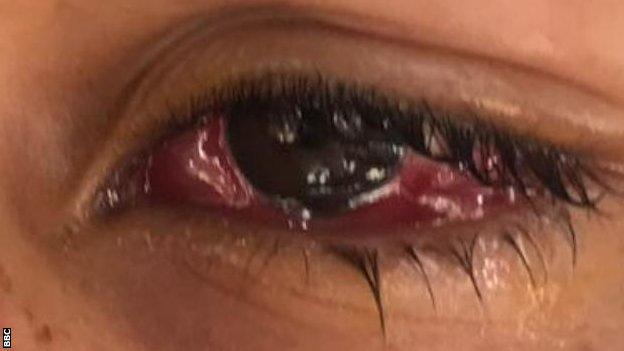 A centimetre from vision loss
Thomas was unaware just how severe the situation had become, despite a near 100-mile ambulance trip to Istanbul, where he had emergency surgery.
"For everyone else it was quite serious but I didn't realise until someone was stood over me with a giant needle saying I had a detached retina; then I'm thinking 'what have I got myself into?" he recalled.
"They said that if it was one centimetre deeper I'd have lost some vision."
Thomas is no stranger to adversity - doctors who predicted he would never walk again after he suffered a serious leg-break when hit by a car at the age of two.
However, he says being conscious during surgery to repair his eye was one of the most frightening experiences of his life.
"They had a big needle to inject the anaesthetic so it would go numb, which was was the most painful thing because it was so close in the eye," he said.
"It was really uncomfortable, I could see and feel everything as the needle and thread were inside the eye with it all being tied up."
Thomas was told to wear sunglasses for the next few weeks and keep away from bright lights, and he was unable to exercise to ensure sweat did not run into his eye.
"It was like when I was little with the broken leg and just wanted to be out playing with the other boys and girls - you fight to get back and I still have that motivation today," he said.
A chance to let go - psychological rehab through salsa
Thomas' physiological recovery was rapid - he claimed silver at the World Games less than three months later - but the psychological rehabilitation took longer.
The Luton-born fighter says he was "hesitant" when competing and held back from his usual attacks out of fear of a similar injury.
"At the end of the day it's a fight and opponents aren't going to take into consideration that I've just been injured," he said.
Thomas made progress after repeated sessions with a sports psychologist, but believes an unlikely hobby - salsa dancing - was also key to his recovery.
"My mum and dad taught salsa when I was a kid and, although I resented it for a while, I eventually gave it a go at 13 and then became obsessed," he said.
"I was watching YouTube videos and going to all the classes for about four years because I just wanted to get better and better.
"Now I can go to any club or party and just dance salsa. For me it's an opportunity to relax, but also to really let go, forget about everything else and just express myself, which I think has been really important."
Olympic hopes
Thomas has suffered two other smaller injuries to his other eye since recovering from the detached retina and has also taken time out of the sport to recover from knee ligament problems.
As a result he has slipped to a world ranking of 19 but insists he is now "100% fit" and is adamant that retaining his title is possible.
Victory would also help Thomas take a significant step towards qualifying for Tokyo 2020 - where karate will make its Olympic debut.
"For karate the Worlds is massive, but to the world it's the Olympics that are massive," he said.
"For me, I'm already a world champion and yes I want to win more titles, but I've watched the Olympics since I was a little boy and getting that gold is now the dream."